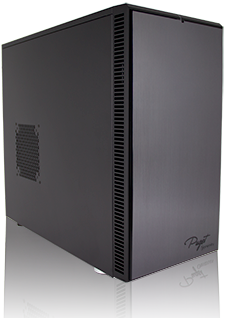 A powerful personal computer
optimized for quiet operation.
Serenity Media Coverage
This page details some of the more prominent media reviews and features that have been done.
Do you see a feature on Puget that is not in this list? !
---



Quote: So we search for the perfectly silent yet enormously powerful PC. And Puget Systems delivers: a quad-core machine with extraordinary power, a fast, quiet solid-state drive and a graphics card that can handle just about anything you throw at it. And it does all that with complete silence. Sure, it makes some sound, but you can't hear it unless you place your ear directly on the PC case itself. In other words, there's no way for this PC to be any quieter.

Read the full review here.

---



Quote: The good news is that the stealth ninja of performance desktops is equal parts stealth and ninja—the Serenity Pro is both super-quiet and an excellent overall performer.

Read the full review here.

---



Quote: The Puget Serenity Pro SPCR Edition easily qualifies as a Certified Silent PC. The measured sound pressure level of 11.5 dBA@1m at idle and 15 dBA at full system load and 30°C room temperature is very impressive and unprecedented.

Read the full review here.

---



Quote: The Puget Serenity Mini SPCR Edition is just as silent as the Serenity, SPCR Edition v.3. The measured sound pressure level of <11 dBA@1m at idle and not quite 13 dBA at full system load is at the same level as any fanless PC with no moving parts; the fanless PSU alone will emit enough electronic noise at full load to match this SPL.

Read the full review here.

---



The Serenity HTPC wins an "Editors Choice" award!

Quote: If you are looking for a quiet system to add to your home theater, and don't need gaming as one of the features, then we would highly recommend looking to Puget Systems and their Serenity line of systems.

Read the full review here.

---



Puget Systems earns a 9 out of 10 score with the Serenity Mini!

Quote: Is the Serenity Mini really that quiet? Yes. The rig is dead silent, which is more of a mind-bender than anything. You expect a system running at 4.5GHz to make some noise, but this is a black hole of silence.

Read the full review here.

---



Quote: One of the main reasons Puget Systems used this case is because they can make it practically silent, even when you're playing games and it's amazing how quiet it is. We even brought in a decibel meter just to see how loud it is; this is easily the quietest gaming PC we've ever reviewed. It's got a lot of padding in the case to make it quiet, and the fans spin slower than usual, but we didn't have any problems with overheating at all while we were playing.



Read the full review here.

---



The Serenity Home Theater offers the best of all combinations for an HTPC; it's designed to fit in with your home-theater equipment, exceptionally quiet, and capable of playing back all kinds of media. Add a dual HDTV tuner and you've got yourself a complete entertainment center companion.

Read the full review here (page 33).

---



Puget Systems sent us one of their super quiet†Serenity custom HTPC builds for testing. Find out why Rob's so impressed by this machine (and its †Core i5 2500K CPU), and some advice on when to buy and when to build in the video!



Watch the full review here.

---



Quote: Even when I transformed our Midwest Test Facility into a completely silent environment by shutting down everything that makes even the slightest noise, including the refrigerator and the heating system, I still could not hear a peep emanating from of this PC.

Read the full review here.

---



Quote: Puget Systems clearly thought the Serenity from the ground up, and there's some careful consideration going on here to ensure the quietest system. This is a smart design if ever I've seen one, and you can't argue with results: Puget Systems set out to build a silent computer and they've achieved it. The Serenity runs, under load, quieter than most laptops I've tested run at idle. We can't test the noise level because it basically sits beneath the noise floor of my apartment complex and I just don't have gear sensitive enough to pick it up.

Read the full review here.

---



Quote: The Puget Serenity i7 Sandy Bridge SPCR Edition extends the tradition established by the previous iterations of this PC. It is superbly assembled, provides better performance and draws less power than its predecessors, and remains extremely quiet in our test conditions.

Read the full review here.

---



Quote: The Puget Systems Serenity system is an inaudible work of art with innovation attributed to their process for selecting a unique combination of components for the task.

Read the full review here.

---



Quote: Puget, the builder makes sure that you know what was done step by step when building your custom PC. After we configured our Serenity Mini, Puget immediately began assembling it and provided us a Web link where we could track the system's progress in real time, including during the benchmarking process. And when the Serenity Mini was ready to be sent out, Puget sent us photos of the finished product.

Read the full review here (page 6).

---



Quote: Our hats are off to the Puget development team for their pursuit of excellence. Puget's SPCR-certified Serenity PC is a truly well-crafted high performance computer at the cutting edge of silent computing.

Read the full review here.

---



Quote: We didn't have a decibel meter on-hand when we were testing the Serenity, but let's put it this way; even with the Serenity sitting at ear-level on top of a desk, any noise the machine might have made was drowned-out by the humming of a refrigerator down the hallway. This held true even when stressing the system with intensive gaming and encoding tasks.

Read the full review here.

---



Quote: Puget came to us just a couple of weeks ago with another unique system. This time, rather than focus on raw performance, the engineering and design teams decided to make a gaming machine as quiet as possible using currently available components and a little elbow grease. Thus, the Serenity was born and with the help of the guys at Silent PC Review, we have a CrossFire based gaming rig that was was never audible over our ambient noise levels.



Watch and read the full review here.

---





See their full podcast here.

---



Quote: Loyd Case is back! He has been reviewing the Puget Systems Serenity, a sub-20dB gaming machine. That is seriously quiet! More the DIY type? Loyd has the word on how to use components like the Gelid Tranquillo CPU cooler, the Antec P183 case and CP 850 PSU in concert with Acoustipak foam to build your own super quiet PC!



Watch the full review here.

---



Quote: The Puget Serenity is a welcome addition to SPCR-certified silent PCs. It is a carefully crafted high performance computer that compares well with any other computer of similar components in mid-2010, with an acoustic footprint that is very small. The noise of this system will hardly be audible in many environments, and certainly not in any ordinary office. At the same time, the Serenity is as well cooled as any PC around, which bodes well for a long and stable usable life.

Read the full review here.

---



Quote: On the outside, it's a classy, if nondescript Antec case. Inside, however, it's calmed with acoustic foam panels, dampened screws and other vibration-reducing handiwork. And while Puget's online configurator lets you change most components, it defaults to selections tested for quiet operation. The result is a pleasing murmur, if not complete silence...

Read the full review here.

---



Quote: Once again, Puget Custom Computers has delivered an exceptionally quiet system — this time at a more reasonable price. As shipped, the system is as quiet as any system we've built on our own, and probably faster.

Read the full review here.

---
Read what our customers have to say about Puget Systems!
While reviews and awards from major publications are great, nothing speaks louder than the words of our customers.
---
"My first experience with Puget Systems was limited in scope, but was still worth describing. I had submitted to an impulse and I needed a new graphics adapter for my PC, which I'd built myself and hadn't intended to be used for anything but casual games. I found Puget Systems via a Google search, and boy am I glad I did! Not only did they have exactly what I was looking for but it was at a great price, too. I placed my order online and within three days - without any high-priced shipping options - my new adapter was at my doorstep! You can bet that Puget will be one of the first places I go from now on!"
Randall
Rating: 10/10 Date: 08/22/14
---
"I have purchased and built many computers through the years. This time when I started looking to buy a new computer, I was again thinking of building it myself. My extensive search on the Internet gave many options for purchasing parts and/or having it customized or custom built.

I am "allergic" to noise, and wanted a computer that was as SILENT as possible and with top notch PERFORMANCE. My search led me to Puget Systems, a company I had never heard about before. So I did my due diligence and researched the company. I found loads of comments and reviews about the company, and close to 100% of them were bragging about how good this company is!!!

I started to "configure" my computer on their site, saved it so I could go back to it and make changes, which I did during several weeks, to make sure I got the configuration I needed.
During this process, I received a prompt email from Wilson Chau at Puget Systems, offering his assistance in reviewing my configuration and answering any questions I may have.
I had some concerns, and Wilson immediately replied and took care of all issues I brought up.
I sent him an email late at night one day - and within minutes, I had his reply.
Then I sent him an email very early morning next day - and again he replied within minutes. This guy never sleeps, LOL.

After placing the final order, I could literally watch online as the computer was built, the progress, who was working on it, and when it was done. Very cool!

The computer arrived exactly as scheduled, and the first thing I noticed, was the incredible thorough packaging. Absolutely top notch care!

The second thing I noticed after opening the computer and looking inside, was how incredible well put together and organized everything was, how nicely the cables were organized, how thoughtful the sound dampening material was applied etc. etc. There were nothing I could point to - that could have been done better or nicer!
Top notch assembly!

Today I am the happy owner of a brand new Serenity Mini, with Intel Core i7-4770k and Samsung 840 Pro SSD.
The computer is very fast, and it is absolutely quiet!
I sit next to it, but I cannot hear it running!

I will recommend Puget Systems to ANYONE looking to buy a new computer.
When you buy QUALITY - you will never regret, and you can enjoy for as long as you have your machine.

Thanks to all the people at Puget Systems - who built and handled my computer!

OS, California"
OS, California [Send Email]
Rating: 10/10 Date: 04/21/14
---
"I was looking for a custom computer for Photoshop. I searched the web and researched several online companies but kept coming back to Puget Systems. I was impressed by the lifetime labor and tech support, and their dedication to quality. I created an account and started working with customer service rep Jeff Stubbers. He helped me through the build and we emailed back and forth on several occasions to discuss the proper components and setup. He was very patient and was understanding of me wanting to keep the price reasonable. I finally order the computer and it arrived within 2 weeks. They provide a complete status report on your build as the process moves along, and even sent me a you tube video of a technician going over all aspect of my computer, so I was aware of every stage of the build. The computer arrived in great shape. The quality, attention to detail, customer support was all incredible and I would highly recommend Puget Systems to anyone needing a custom built computer. Very impressive!!!"
Richard Phillips [Send Email]
Rating: 10/10 Date: 02/18/14
---
"I had been looking to build a custom gaming PC for quite a while and had been all around the web looking at different manufacturers, I stumbled onto Puget System's mainpage as a direct link from logicalincrements.com. It looked underwhelming at first but I figured I would give it a go and see what kind of configuration I could come up with. After setting my original config I selected the option for review by a professional, expecting the usual no response or useless "its up to you" reply. By the time I woke up the next day ( I originally sent the request at 5am) I had a detailed response from Will outlining the positives and negatives of different choices and an open offer to e-mail him with further questions. What sold me was that he actually steered me out of useless frills and into choices that would add to the stability and/or performance of my system, he stayed away from pointless upsells and helped me build a really solid PC that would do all I needed it to do and then some. That experience sold me 100% on Puget as MY custom builder, and the only builder I would recommend to anyone.

It only got better from there, after I finalized my order and it was prepping for assembly I noticed the meticulous work their staff puts into every facet of production. Oscar did what I would call the finest wiring job I have EVER seen, and as an avid PC gamer I have seen some excellent custom PC work. The wiring looked artistic in a way, his pride in what he does shows and I hope next time I buy from Puget (and I will) he will be the one wiring my rig. After Oscar assembled it, Kyle did a great job trying to break it and probably put more stress on my system than I ever will, every part was meticulously strained and benchmarked. Every member of the service and production staff is top notch IMO.

No corners are cut by Puget, their quality and pride in both service and product show. I can't see myself buying from another company as long as Puget is building rigs for gamers like me."
John Cadotte [Send Email]
Rating: 10/10 Date: 02/18/14
---
"I have purchased many computers over the years. Most of my computers were custom configured from Dell, Gateway, HP, Micron etc. The level of customer service from the sales / ordering folks have been fantastic. When my computer arrived the packaging the computer was shipped in was over the top. Not even Federal Express known for tossing packages on the front porch could have damaged this computer. Also, there was shipping protection on the inside of the computer case as well.

The Manual Puget Systems provided has been very helpful in getting setup on my new computer. This is a very nice system and I am excited about my new purchase."
Randy Freeman [Send Email]
Rating: 10/10 Date: 01/24/14
---
"Purchased a Serenity. Very pleased with system and support. Nice touches like letting you know progress of build and thermal imaging to show build is done with reliability in mind, not just silence. And the system really is amazingly quiet, effectively silent."
Dave
Rating: 10/10 Date: 01/04/14
---
"I recently had puget systems assemble a Home Theater PC for me. My decision to go with Puget was made easier once I learned more about the company the the steps they take to make sure that EVERY system they build is custom to the clients request/needs. I found this this out through searching for information about this company first before doing business with them and viewing videos on their system assembly process. I then proceeded to setup a custom HTPC build and immediately got a follow up email about the my specified build from one of their sales associate. I was actually pretty baffled that the sales associate told me to downsize some components as it was not needed for my specific use of the HTPC and that I could get great results with their recommended build and SAVE MONEY! This is not something that you usually see in Sales, and It proved even further to me that this was the company I was going to do current business with and even Future business with. They are very meticulous with their build process and I witnessed that on my build at the quality control portion of the build where a component(USB port) was not functioning and the Started the build over again. Thats awesome attention to detail!!! I am very pleased with how much this company has focused on providing great customer service. Thanks Puget, Keep up the great work."
Michael Maghinay [Send Email]
Rating: 10/10 Date: 12/17/13
---
"I have just received my custom made B460i 14 inch Traverse Laptop.

In two words "Top Shelf".

1. Watch John Bach's Video, everything stated is true and more.

2. I suppose I had looked at some 10 or more Companies shelf ready Ultra Books, and these are fine unless what you want is specific, and I was.
I wanted not only a Haswell 4th Gen i7 with the integrated 5200 pro Iris GPU in a laptop... but I also wanted Samsung's Pro series 512 SSD, not RAID, not etc... and none of the major pre-built had these, or made some other complication.

So I went looking for a customer builder, and there are several, I almost went with another builder (or so I thought) because I didn't
know Puget existed at that moment... Here is what I found... Many other builders can build a custom desk top, and advertise they can build a custom Laptop, however when you can't be switched
to a computer they can build, you suddenly are required to meet their standards of some kind, one sited the homeland security Act... at any rate I am very fortunate to have literally stumbled upon
Puget as Puget has exceeded every expectation I had and even some of their own. ( this has the quietest fan... I can hardly hear it.)

A. No outrageous something I had to provide, just what any normal over 2k purchase required. You think that should have been easy, so did I, give it a whirl .

B. No Bull Crap Period.

C. These are guys are Pro's, as they finished the build, I was able to log in and see day by day, sometimes by the hour... what was being pulled, ordered, available, who was installing what, testing,
the test results, the burn results (I might have been able to assemble something that resemble's this computer in my static environment, with out breaking something... But if something was failing,
or not running as it should I would have to have used the WTF method of elimination to find the problem child.) Puget put this computer through a major Burn in Run, sent me the results in images, and a
complete copy in rebut-able CD format with my own CD copy of the OS, drivers on and on, Over and beyond....

3. The computer arrived in perfect shape, and I even know who boxed it, as it arrived ahead of schedule before Christmas, a day before the early date by FEDEX.

Bottom Line: You do not have to know exactly what you want to have a custom machine built, these guys don't presume, but will help if you want it, if you know what you want, you will appreciate these guys.


J. Love
Louisville Ky"
J Love
Rating: 10/10 Date: 12/17/13
---
"The whole process of ordering a computer from Puget Systems has been an eye-opener. I received great individual attention and support at each phase of the process including configuring the order, reviewing progress of the build, shipment and follow-up. The people who supported me were consistently helpful and always willing to explain things and make recommendations to better meet my needs. The computer itself is beautifully and sturdily built and packaged. I would absolutely use Puget again in the future."
Alan Bickett
Rating: 10/10 Date: 12/09/13
---
"OK, now I'm embarrassed. I have purchased 8 gaming desktop and laptop computers from Puget Systems over the past 8 years, and this is the first time I have sat down and submitted a testimonial. It was always "I'll get to it tomorrow". That is tragic because Puget is such a rare company in this day and age that their outstanding work and company policies should be widely heralded. Thanks to Jon Bach's superb sales and tech support teams, all of my Puget machines have been a pleasure since "day one", and every single one of those machines is still running strong.

If I can give just one reason why I am a satisfied repeat customer of Puget Systems, it is their service. Any computer company can assemble hardware and make it work (for awhile), but Puget does much more than that. They build a solid, well made machine, from some of the best components available anywhere, that meets my specific needs both technically and financially. The ability to choose my favorite operating system and have it installed without a lot of other bloatware and malware is a big plus. The large selection of free software that can be added to my system is another plus. I get only the system I ordered -- nothing more -- no infuriating malware surprises. But it doesn't end there. Puget stands behind my machines from the moment they come off the testing line. In my opinion, that's where most other computer companies really fall short.

The Puget team consists of many fine people that have done their best over the years to make me a satified customer. Just to name a few, William George in Sales has been more than helpful in assisting me with configuring many of my machines some of which had rigid space and cooling requirements. His insightful suggestions have not only made my purchases better, they have saved me money. Scott Denoff in Tech has gone way beyond the pale in analysing and fixing some complex problems that have kept my machines running in top shape, and which in turn has kept me a very satisfied customer. These people are just a few of the Puget team that does really fine work in delivering products that I have been happy with for many years.

Another big plus is Puget's communications setup. You know what is going on all the time, whether it is a new system build or the repair of an older machine. This is another mark of a first class organization. Their communications are so effective that my being 3000 miles away on the East Coast is of no consequence.

I used a lot of superlatives in the above paragraphs, but they are all warranted. Puget Systems is a fine company. They make a fine product. They deliver great service. If their oustanding record continues, they will have me as a lifelong customer. There are very few companies in the world that I can say that about."
Armen Harian [Send Email]
Rating: 10/10 Date: 10/18/13
---
Read all
customer testimonials.