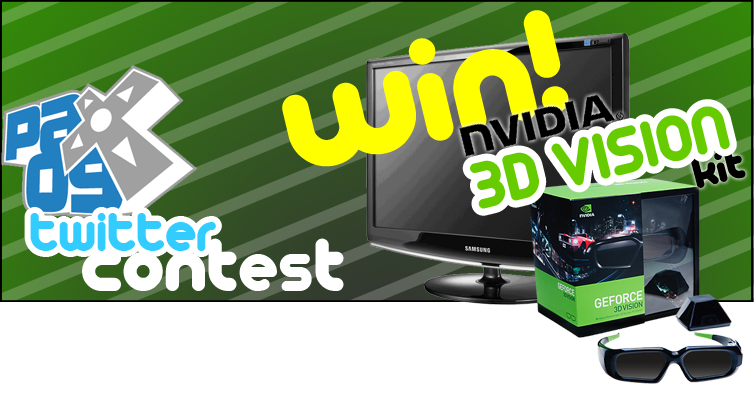 Twitter to Win NVIDIA 3D VISION Kit!

THIS CONTEST IS NOW CLOSED.
THANK YOU TO EVERYONE WHO PARTICIPATED!



At this year's Penny Arcade Expo, Puget Systems and NVIDIA have teamed up for an exciting contest! Attendees of PAX'09 will have a chance to win one of three NVIDIA 3D Vision kits. Details below.

To enter the contest, just post a creative 'tweet' using both the #PAX09 and #PugetSystems hash tags.
Winners will be chosen at random.
Multiple tweets/entries are allowed and will increase your chances.
One winner will be chosen per day of PAX'09.
A winner will be announced daily at 5pm at the NVIDIA booth -- you must be present to win!



Friday Winner: @inadecline
Saturday Winner: @honus
Sunday Winner: @Atratyys

Puget Systems specializes in building high quality custom built desktop computers, gaming computers, laptops and servers, and is based in the greater Seattle area. For more information or to check out our computers, please visit our home page.
---
Rules:
This contest is open to anyone with a Twitter account who is at least 16 years of age. Employees of Puget Systems, NVIDIA or their affiliated companies and family members of such employees are not eligible to enter.
Winners will be chosen at random from all Twitter posts from that day. Posts from before PAX09 will be included in the Friday drawing.
To enter, you must send a 'tweet' from your own Twitter account, including the hash tags #PugetSystems and #PAX09 . The rest of the message is up to you -- be creative! Creativity will not impact your chances of winning, but we will be featuring the most creative posts on our website.
To claim your prize, you must have photo ID that matches the identity of your Twitter account, or demonstrate the ability to log in to your Twitter account at the NVIDIA booth.
You can 'tweet' as many times as you like. However, automated posts will be disqualified at the sole discretion of Puget Systems. Let's keep it fair!
Puget Systems provides no technical support or warranty for the prizes. Warranty is provided by the manufacturer.