Announcing Free Restore DVDs on Windows 7 PCs
Posted on November 16, 2009 by Jon Bach
Share: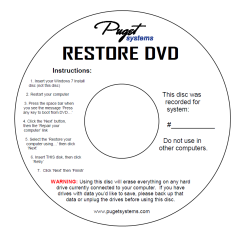 At Puget Systems, we are constantly identifying ways that we can increase the value of our services to our customers. We get our production and support departments together every Tuesday to go over the largest issues of the week, and we then implement measures to solve those issues and improve our products.
This week, we talked about how many of our customers over the years have needed to reinstall their operating systems, and how stepping them through it on the phone is taking hours of our customer's time. Of course, we are happy to do it! But there is a better way. We therefore are happy to announce the free addition of system restore DVDs to our Windows 7 and newer PCs (except where prevented by an especially exotic configuration). Starting with Windows 7, Microsoft has done an excellent job in improving disk imaging, and we are leveraging this to improve your experience with your Puget Systems PC. If at any time you would like to restore your OS to the way it was when you first got your PC, simply use your restore DVD, follow the instructions, and you will be back up and running in about half an hour!
Of course, we understand the restore DVDs are nothing new, but we're excited all the same! Not only does this provide you with an additional tool, but having it out there with every Windows 7 and newer PC also improves our support services. Even if you bought a PC last month and missed this addition to our products, you can still be happy to know that this announcement still benefits you. Having given our support techs a tool to have all of our Windows 7 and newer customers completely reinstalled in half an hour, it means that they will be able to get back to you and other customers quicker than before.