Press Release: Puget Systems Back to School Special
Posted on September 2, 2010 by Chris Bristol
Share:
Puget Systems Offers Back to School Specials

Just in time for the new school year, Puget Systems offers a $100 discount on the most cost-effective and upgrade worthy PC they offer.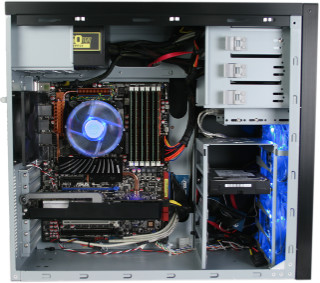 SEATTLE, WA - Puget Systems (
www.pugetsystems.com
), a boutique integrator of custom PC systems for enthusiasts, gamers, consumers and SMB markets, today announced a new $100 discount on systems designed for those heading back to school. The configuration is based on the Puget Spirit - a computer designed specifically for its upgrade ability and hight quality components.
"Our goal with our Spirit PC is to provide the most affordable system possible, without sacrificing quality, reliability, or upgrade ability. We have specifically configured this system to be capable of running high end graphics configurations and the latest CPUs. Even more, we are offering a $100 discount to keep the entry price as affordable as possible!"
The configuration was named the "Spirit" because it is quite literally the spirit of Puget Systems - to build high quality computers that are rock solid while leaving room for future system upgrades. With the Spirit, though the initial price of entry is low, the opportunities are incredibly high.
Though many new students are opting for notebooks, the desktop computer is still king when it comes to upgrade ability. Save money in the short term without the fear of going out of date with the Puget Spirit Back to School $100 discount.
About Puget Systems
Puget Systems is a specialized integrator of custom personal computing systems meticulously designed to exceed the discriminating requirements of consumers, enthusiasts, gamers and businesses in multiple industries. Puget Systems combines industry-unique custom innovations, the highest quality leading-edge components with an unparalleled commitment to personal service and support. Founded in 2000, Puget Systems is headquartered in its new facility in Auburn, Washington. For more information, please visit
www.pugetsystems.com
.
Media Contact:
President, Jon Bach
Puget Systems
(425) 458-0273 x6003
jonbach@pugetsystems.com