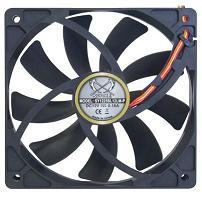 These fans have been hand selected by Puget Systems for their quiet operation and their pleasing tonal quality (making the little noise it generated less noticeable). The speed of the fan is controlled by PWM (pulse width modulation), which gives the motherboard very accurate control. For this reason, we recommend using this fan on CPU coolers in quiet systems.

Christopher Crader (Customer Support) Says:
These are very quiet fans that are great for getting some extra airflow in your case without producing a bunch of extra noise. I used a pair of these to deaden some noise from my backup computer and they worked wonderfully! They don't have any fancy lights, but the functionality is great.
Model: Scythe SY1225SL12M-P
Specifications
Specifications

Dimension
120x120x25 mm (4.7 in)
Speed
1300 RPM
Air Flow
74.25 CFM
Noise
26.5 dBa
Bearing Type
FDB Sleeve Bearing
Life Expectation
30000 hours
Warranty
2 Years