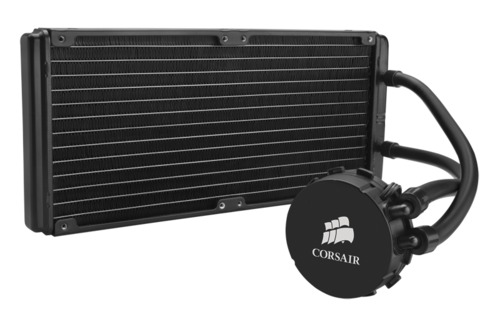 This Corsair Hydro series cooler is a self-contained CPU liquid-cooling solution. It is designed as an all-in-one alternative to the normal CPU heatsink/fan units found in most computers. The advantage the Corsair Hydro offers over air-cooling is the ability to keep hot-running processors at lower temperatures. This allows the use of higher wattage CPUs, and can allow better overclocking performance as well.

This specific model, the Hydro H110, uses a double 140mm fan setup to mount and cool the radiator. That means it only works in a chassis where there are two, side-by-side 140mm fan mounts near the CPU. For mounting it comes with hardware to fit AMD's AM2, AM2+, AM3, FM1, and FM2 CPUs as well as Intel's socket 1155, 1156, 1366 and 2011 processors.

Jon Bach (President) Says:
There is a LOT of cooling power in this unit. A 140mm radiator has about 50% more surface area than 120mm, and this unit has double that again. We have cooled 150W processors with this unit, no problem. You do, however, need to make sure your chassis has all the fan spots necessary for this radiator.
Model: Corsair CW-9060014-WW
Specifications
Dimensions

Length
213 mm (8.4 in)
Width
140 mm (5.5 in)
Height
29 mm (1.1 in)

Fan Specifications

Air Flow
94 CFM
Fan Size
140x25 mm (5.5 in)
Fan Speed
1500 RPM
Noise Level
35 dBa
Static Pressure
1.64 mmAq

General

Compatibility
Intel LGA 1155, 1156, 1366, and 2011. AMD sockets FM1, FM2, AM2, and AM3
Features
280mm radiator The 280mm-wide radiator has a larger surface area than typical 240mm radiators for more efficient heat transfer.
280mm radiator The blades of the included 140mms fan are larger than most 120mm fan blades, so they don't need to spin as fast to deliver the same airflow, reducing noise without lowering performance.
Next-generation tubing The low-evaporation, easy-bend tubing is guaranteed leak-free.
Advanced cold plate and manifold design The cold plate uses copper for outstanding heat transfer, and the manifold is engineered for efficient flow.
Simple mounting bracket The multi-platform mounting bracket easily adapts for Intel and AMD processors.