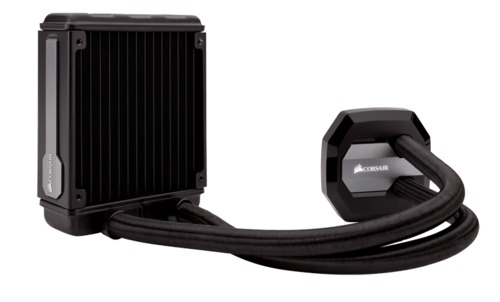 This Corsair Hydro series cooler is a self-contained CPU liquid-cooling solution with a copper base. It is designed as an all-in-one alternative to the normal CPU heatsink/fan units found in most computers. The advantage the Corsair Hydro offers over air-cooling is the ability to keep hot-running processors at lower temperatures. This allows the use of higher wattage CPUs, and in some situations can allow for overclocking as well.

This specific model, the Hydro H80i, has a thick 120mm radiator. We install it with a single, high pressure 120mm fan set up to pull fresh air in from the back of the computer and push it across the radiator. Another fan at the top of the chassis then exhausts the hot air coming out of the radiator. That means it can only be used in a chassis with the correct layout, but in such cases it works very well. For mounting, it comes with hardware to fit AMD's AM2/3/4 sockets as well as Intel's various 115X and 20XX sockets - and AMD's TR4 chips include a bracket that will allow this cooler to work on them as well.

William George (Product Development SME) Says:
This is a newer closed-loop cooler from Corsair, alongside the H60 we've carried for years. Its main advantage is a thicker radiator which can dissipate more heat, allowing it to better handle the high core count processors like AMD's Threadripper. For chips that don't run as hot, though, the H60 is still a better fit since it doesn't require as powerful (and thus noisy) of a fan.
Model: Corsair CW-9060024-WW
Specifications
Dimensions

Length
123 mm (4.8 in)
Width
49 mm (1.9 in)
Height
152 mm (6.0 in)

Fan Specifications

Air Flow
70.69 CFM
Fan Size
120 mm (4.7 in)
Fan Speed
2450 RPM
Noise Level
37.7 dBa
Static Pressure
4.65 mmAq

General

Compatibility
AMD TR4, Intel 115x & 20xx