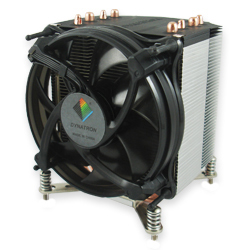 The Dynatron R17 is a mid-height CPU cooler for Intel's socket 2011 processors. It fits well in tower and 4U rackmount cases, and can be used with even the hottest Core i7 and Xeon processors. Because of its smaller size, it is a little on the loud side when compared to a larger tower cooler like those made by Noctua.

Nick Krader (Inventory Technician) Says:
This server grade heatsink may not be the quietest option available on the market, but the tradeoff is a robust long lasting product that fits into our 3u rackmount server chassis. These have more than enough capacity to cool our Xeon offerings. The fan that comes with it is a long lasting dual ball bearing fan that is PWM controlled and allows the fan to slow down when the system is idle.
Model: Dynatron R17
Specifications
Dimensions

Length
91 mm (3.6 in)
Width
91 mm (3.6 in)
Height
110 mm (4.3 in)
Net Weight
.53 kg (1.2 lbs)

Fan Specifications

Air Flow
43.36 CFM
Bearing
2 Ball Bearing
Current
.25 A
Fan Size
92 mm (3.6 in)
Fan Speed
2500 RPM
Noise Level
31.92 dBa
Static Pressure
3.0 mmAq

General

Compatibility
Intel Socket 2011
Warranty
1 Year