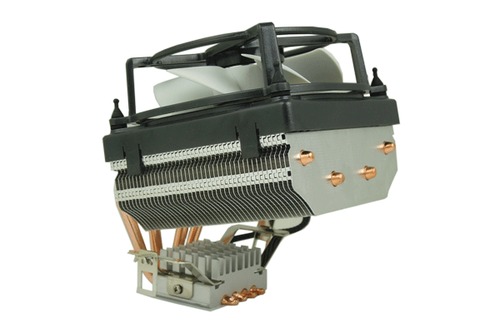 Quieter and more efficient than stock cooling, yet much less expensive than liquid-cooling, the Gelid Silent Spirit strikes a good balance between size, price, and performance. The top-down airflow of the cooler works to cool both CPU and chipset. It will also fit inside most of our smaller cases.

This second revision to the Silent Spirit is specifically built to be mounted in AMD systems, and so works with sockets 754, 939, 940, AM2, AM2+, AM3, FM1, and FM2. A bracket is also included for mounting this on Intel-based systems, but we have found it to be cumbersome and insecure. If you are looking for a comparable solution for Intel processors, we carry several other options that are a much better fit there.

John D. (Research and Development Engineer) Says:
I really liked Gelid's original Silent Spirit for Socket 775 Intel processors. If you didn't need the extra cooling of its big brother, the Tranquillo, it provided excellent cooling for the little 65W processors with very low noise and less bulk. Unfortunately, the AMD mounting bracket never felt terribly secure. Now the Silent Spirit is back in a new revision with updated mounting hardware, and there's a bit of a role-reversal. The new mounting bracket for Intel processors is a bit disappointing, but the AMD hardware feels nice and secure. With easy installation and a design that helps cool components near the CPU, there's finally a good, low-noise alternative to the stock heatsink for mid-range AMD processors.
Model: Gelid CC-Spirit-02-A
Specifications
Dimensions

Length
108 mm (4.3 in)
Width
100.5 mm (4.0 in)
Height
125 mm (4.9 in)
Net Weight
.335 kg (0.7 lbs)

Fan Specifications

Air Flow
45.8-77.86 CFM
Bearing
Hydro Dynamic
Current
.23 A
Fan Size
100.5x100.5x45 mm (4.0 in)
Fan Speed
900-2400 RPM
Life Time MTTF
50000 hours
Noise Level
10-25.8 dBa

General

Compatibility
AMD Socket 754/ 939/ 940/ AM2/ AM2+/ AM3/ FM1/ FM2, Intel Socket 775/ 1155/ 1156/ 1150