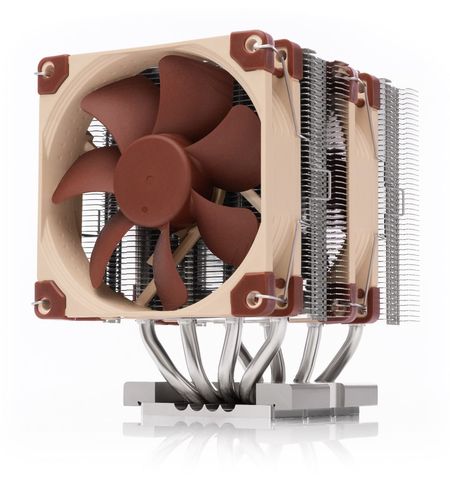 The Noctua NH-D9 is a high-end heatsink and fan cooling system, featuring a pair of in-line 92mm fans. By using smaller fans than the big 120 and 140mm designs, this cooler is able to fit in slim tower and 4U rackmount chassis. As with all Noctua models, it provides excellent cooling with quiet operation - though in a rackmount chassis there will likely be other sources of noise regardless of how quiet the CPU cooler is.

This particular variant, the NH-D9 DX-4189 4U, is specifically designed to fit Intel LGA 4189 socket processors like the Xeon W-3300 series.

William George (Product Development) Says:
While this is built for use in a 4U rackmount chassis, it can also be used in a larger tower - where it can offer an advantage over bigger heatsinks that often block access to the top PCI-Express slot on a motherboard. The trade-off is usually increased noise (the smaller fans have to run faster under full load) but if you are maxing out all the PCI-E slots in a tower then there are likely other noise sources that would mask this difference anyway.
Model: Noctua NH-D9 DX-4189 4U
Specifications
Dimensions

Length
95 mm (3.7 in)
Width
95 mm (3.7 in)
Height
134 mm (5.3 in)
Net Weight
0.769 kg (1.7 lbs)

Fan Specifications

Air Flow
56.68 CFM
Bearing
SSO2
Current
0.14 A
Fan Size
92 mm (3.6 in)
Fan Speed
2500 RPM
Life Time MTTF
>150,000 hours
Noise Level
30.6 dBa

General

Compatibility
Intel LGA4189