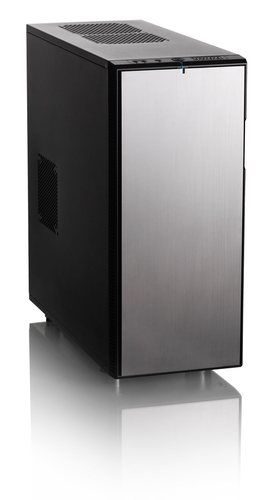 Fractal Design's Define XL R2 is a larger version of the popular Define chassis series. It is a very flexible design, built for an EATX motherboard, with plenty of space for dual CPU configurations and a host of other components. It can mount eight hard drives and four optical drives or other 5.25-inch bay devices.

The Define XL R2 comes with three fans, but can fit up to four more depending on the cooling needs of the hardware. The front connections are located at the top of the case, directly above the front door, and include two each of USB 2.0 and USB 3.0 ports alongside headphone and mic plugs.

This particular version is 'Titanium Grey' in color.

Matt Bach (Senior Puget Labs Lead) Says:
This chassis is a bit on the large side, but it has a ton of features that makes it a great choice if you want a very powerful system that is still moderately quiet. All of the different fan locations make it easy for us to optimize the cooling while the unused fan mounts come with a plate to block them off which reduces noise. One thing I really like about this chassis (and the Define R4) is the fan speed switch just behind the front door. This makes it really easy to turn your chassis fans up whenever you need a little bit of extra cooling. The only thing I don't like on this chassis is the front door. I think it looks great, but I really don't like how it only opens to to just past 90 degrees. On the other hand, with the power switch and front ports being on the top of the chassis, the only reason to open the door is to get to the 5.25" drives. And I can't remember the last time I needed to get to my optical drive beyond doing my initial Windows install.

Jeff Stubbers (Technology Consultant Lead) Says:
This is a very versatile case for cooling, and allows for a good amount of hard drives. The Fractal Design Define XL R2 does a good job of dampening the noise of your system as well. This case is definitely worth your consideration.

*This case gets plenty of cooling when the front door is closed. There are vents to left and right of the door designed to allow enough air in with the front door closed, and that air still gets filtered to stop the majority of dust from getting inside the system.
Note: Dimensions: 22" H x 9.1" W x 22" D
Model: Fractal Design FD-CA-DEF-XL-R2-TI
Specifications
Color
Grey
Material
Plastic front panel, steel frame
Type/Size
Full Tower
Maximum Motherboard Size
SSI EEB
Case Window
No
Power Supply
None

Dimensions

Height
559 mm (22.0 in)
Width
232 mm (9.1 in)
Depth
560 mm (22.0 in)
Net Weight
16.4 kg (36.2 lbs)
Maximum CPU Cooler Height
170mm (with no side fan)
Maximum GPU Length
330mm (480mm with top HD cage removed)
Maximum PSU Length
190mm (345mm with bottom fan removed)

Drive Bays

External 5.25 inch
4
External 3.5 inch
0
Internal 2.5/3.5 inch
8

Front Panel Connectors

USB 2.0
2
USB 3.0
2
Audio In
1
Audio Out
1
USB-C
0

Cooling System

Cooling Method
Air
Included Fans
1x 140mm Front, 1x 140mm Rear, 1x 140mm Bottom
Total Fan Mounts
1x 120/140mm front, 2x 120/140mm Top, 1x 140mm Side
Warranty
2 Years