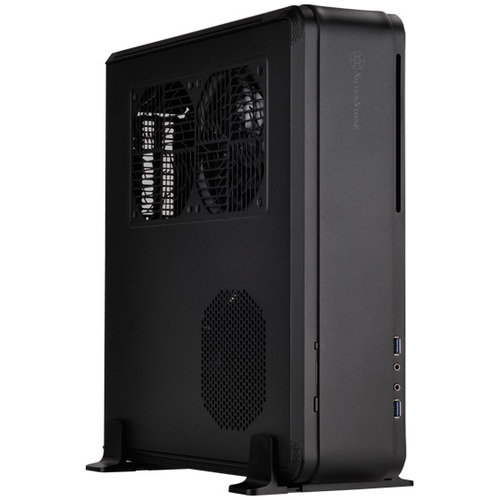 The FTZ01 is a sleek and slim mini ITX case from Silverstone. It has more room for internal components - particularly a video card - than most cases of this size. It is well suited to use as a small form factor gaming computer, or in other situations where space is limited but a dedicated video card is needed. It can fit cards as large as the GeForce GTX 1080 while being only 4 inches thick, thanks to the use of a riser to mount the video card parallel to the motherboard.

For connectivity, the FTZ01 features two USB 3.0 ports on the front along with traditional headphone / mic plugs. The internal layout allows for one 3.5" and two 2.5" drives, along with a slot-loading optical drive bay. There are mounts for up to three 120mm fans, but only two are included with the case.

William George (Product Development) Says:
The FTZ01 is the same size as the ML07 we used previously, and the same internal layout, but has a much nicer looking exterior. There is no eject button for the optical drive on this case, because there is no standard for where the eject button should be physically located on slot-loading drives. To eject a disc, then, you would use the command from within your operating system. For Windows based systems, that means right-clicking on the drive in Explorer and selecting 'Eject'. You may also be able to initiate that command more easily from within media playback software.

Houston Bennett (Social Media & Community Manager) Says:
After the Define R5, this is my favorite case to work in. This is a great chassis for anyone that doesn't need a bunch of drives or video cards and wants to maximize space. I like that it has a similar form as an old school VCR or stereo receiver. It'll blend in easily with nearly any entertainment system, perfect for an HTPC or even a high-end gaming system.

Nick Jaynes (Production Technician) Says:
If you are looking for a small and compact case the FTZ01 is an interesting choice in both design and function. The case itself fits Mini-ITX motherboards and small form factor power supplies. As far as upgrades and expansions go, the case has room for up to two SSDs, one HDD, one slim optical drive, one PCIe device up to 13 inches in length (such as a graphics card) and three 120mm fans. Airflow is a common concern with small form factor cases. Silverstone gave this careful consideration and they designed a case that adequately keeps your system and various components cool even under a strenuous load. While the FTZ01 is lacking what a larger case can offer in expandability it makes up for its shortcomings in a solid and practical design.

Gabe Martinez (Production Technician) Says:
Love this case! The Silverstone FTZ01 fits a ton of power into a small footprint, with the ability to house a full size graphics card, a couple of SSDs, and even a 3.5" platter drive. Suffice it to say, there isn't much compromise to be had within the confines of this particular PC case, it can still pack a punch for its size. If full size tower cases aren't your thing and you would like to minimize the amount of space taken up on your desk, then I would absolutely recommend going with the FTZ01 given its ability to stand vertically using the supplied bookend style case feet, creating a very slim profile. If you are looking to build a blazing fast gaming PC or a highly capable workstation in a mini-itx form factor, this case hits all the right notes.
Note: Dimensions: 14.8" H x 4.2" W x 13.8" D
Model: Silverstone FTZ01
Specifications
Color
Black
Material
Aluminum fame, steel body
Type/Size
Small Form Factor
Maximum Motherboard Size
Mini ITX
Case Window
No

Dimensions

Height
376 mm (14.8 in)
Width
107 mm (4.2 in)
Depth
351 mm (13.8 in)
Net Weight
4.6 kg (10.1 lbs)
Maximum CPU Cooler Height
83mm
Maximum GPU Length
330mm

Drive Bays

Internal 3.5 inch
1
Internal 2.5 inch
2
Slim 5.25 inch
1

Front Panel Connectors

USB 3.0
2
Audio In
1
Audio Out
1

Cooling System

Cooling Method
Air
Included Fans
CPU: 1x 120mm fan, 1500rpm 18dBA. GPU: 1 x 120mm fan, 1500rpm 18dBA
Total Fan Mounts
1x120mm over GPU
Features
Designed for use in either vertical or horizontal orientation, it can be placed comfortably in any space-constrained environment that requires a powerful PC.
Utilizing an advanced layout designed for maximum performance and a PCI-E riser, the slim Echo III is capable of housing even the biggest consumer cards.
Warranty
1 Year