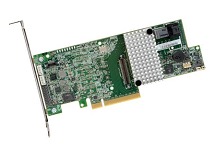 The LSI 9361-8i RAID Controller is an 8-port, 12Gbps SAS / SATA adapter incorporating LSI MegaRAID technology. It supports all major RAID modes via a dual-core LSI hardware controller chip, and by utilizing a PCI-Express 3.0 x8 slot it can handle tremendous data bandwidth. This allows using even fast solid-state drives effectively, and LSI's FastPath software on the card adapts the controller to provide the best performance when SSDs are present.

For mission-critical work, there is also an optional hardware add-on to protect data in the card's cache during an unexpected loss of power. This upgrade, called CacheVault, helps to shield data that was in the process of being written during power loss from corruption. If you do not utilize CacheVault, or some other form of protection from outages, then it is highly recommended to disable the Write Caching feature on this card. Doing so reduces write speeds dramatically, but the alternative is to leave your data open to corruption in the case of an unexpected loss of power.
Note: In order to protect the data on your RAID array we intentionally disable sleep in Windows/Linux.
Model: LSI 9361-8i
Specifications
Card Specifications

Manufacturer
LSI
Type of Ports
Mini-SAS SFF8643
Number of Ports
2
Port Location(s)
Internal
RAID Modes Supported
0, 1, 5, 6, 10, 50, and 60
Native Supported Disks
8
Maximum Supported Disks
128
Battery Backup Available?
Yes
Slot Style
PCI-Express x8
Form Factor
Low/Full Height

Controller Chip

Brand
LSI
Model
LSISAS3108 dual core RAID on Chip (ROC)
Memory Amount
1024 MB
Memory Expandable?
No

Dimensions

Net Weight
0.331 kg (0.7 lbs)
Warranty
3 Years