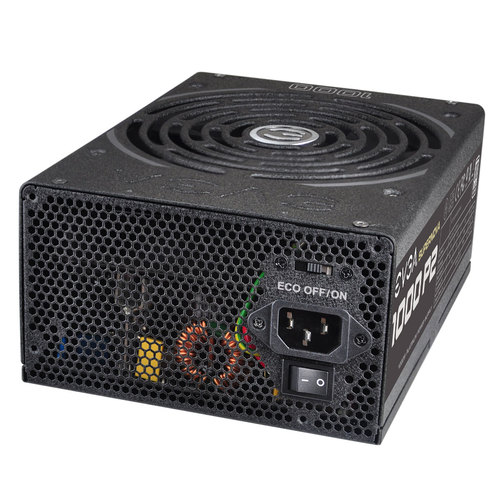 The EVGA SuperNOVA 1000W is a full-featured, 80 PLUS Platinum-certified power supply unit - complete with entirely modular wiring for clean assembly and a quiet 140mm fan for cooling.


William George (Product Development SME) Says:
This is a great power supply, but it has a small downside for computers with windowed cases. The PCI-Express cables, which go to the video card(s), are red - while the rest of the cabling is black. In some cases that might look fine, but in others where there is no other red in the overall color scheme I think it can look a bit 'off'. If that concerns you, we can get a set of all black cables in... or you can upgrade to the 1200W model, which comes standard with all black cables - and costs less than adding the black cable package to this power supply. UDPATE: As of 2017, the all the cables that come with this power supply are now black! EVGA listened to our concerns and changed the cabling, so I now have no hesitation about recommending this power supply.
Model: EVGA 220-P2-1000-XR
Specifications
Maximum Power
1000 W
Standard Compliance
OVP (Over Voltage Protection), UVP (Under Voltage Protection), OCP (Over Current Protection), OPP (Over Power Protection), and SCP (Short Circuit Protection)
Peak Efficiency
92 %
Efficiency Certification
80 PLUS Platinum
Cooling System
Quiet 140mm Fan

Power Distribution

+3.3V rail
20 amps
+5V rail
20 amps
+12V1 rail
83.3 amps
Combined +12V Maximum
83.3 amps

Connectors

Molex
5
SATA
10
Floppy
1
PCI Express
2
PCI Express 8-pin
6
CPU Power 8/4 pin
2
External Connector Type
C13

Dimensions

Height
85 mm (3.3 in)
Width
150 mm (5.9 in)
Depth
200 mm (7.9 in)
Net Weight
3.6 kg (7.9 lbs)

Input

Voltage
100-240 Vac
Frequency
50/60 Hz
Features
Unbeatable 10 Year Warranty and unparalleled EVGA Customer Support
Highest quality Japanese brand capacitors ensure long-term reliability
Fully Modular to reduce clutter and improve airflow
Double Ball Bearing fan for exceptional reliability and quiet operation
Heavy-duty protections, including OVP (Over Voltage Protection), UVP (Under Voltage Protection), OCP (Over Current Protection), OPP (Over Power Protection), and SCP (Short Circuit Protection)
80 PLUS Platinum certified, with 92% (115VAC) / 94% (220VAC~240VAC) efficiency or higher under typical loads
ECO Intelligent Thermal Control Fan system (Zero Fan Noise < 45*C)
Warranty
10 Years