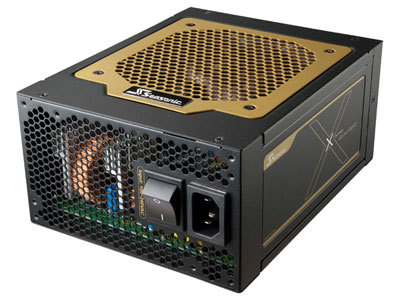 The X-Series 1050W power supply from Seasonic is a powerhouse - while also remaining highly efficient and quiet. Like all members of the X-Series line, the 120mm fan turns off at low power draw levels - and thanks to its 80PLUS Gold 90% efficient rating the fan is almost always going to be off when the computer idles or is just under basic usage. When more is required of it, though, the fan will kick on and keep the unit running cool - while providing enough power for even the most demanding hardware out there.

John D. (Research and Development Engineer) Says:
The Seasonic 1050W X-Series power supply brings all the features we like about the 560W supply--fully modular design, idle fan at low temperatures, and Seasonic reliability--with a higher wattage rating. Highly recommended if the 560 or 850W versions don't meet your demands.
Model: SeaSonic SS-1050XM
Specifications
Maximum Power
1050 W
Standard Compliance
CB, cTUVus, CCC, TUV, GOST-R, BSMI, CE, UKR, FCC, C-tick
Peak Efficiency
90 %
Efficiency Certification
80 PLUS Gold
Cooling System
Quiet 120mm Fan
Noise Level
0-16 dB
Safety Compliance
OPP, OVP, UVP, SCP, OCP, OTP
Materials Compliance
WEEE, RoHS

Power Distribution

+3.3V rail
25 amps
+5V rail
25 amps
+12V1 rail
87 amps
Combined +12V Maximum
87 amps

Connectors

Molex
5
SATA
11
Floppy
2
PCIe 8-Pin
6
CPU Power 8 pin
1
CPU Power 8/4 pin
1

Dimensions

Height
86 mm (3.4 in)
Width
150 mm (5.9 in)
Depth
190 mm (7.5 in)

Input

Voltage
100-240 Vac
Frequency
50/60 Hz
Features
Full Modular Design (DC to DC) Common to all X-Series power supplies, the new X-1050 and X-1250 feature the unique integrated DC connector panel with onboard VRM (Voltage Regulator Module) that enables not only near perfect D-to-D conversion with reduction of current loss / impedance and increase of efficiency but also a fully modular DC cabling that enables maximum flexibility of integration and forward compatibility.
Seasonic Patented Hybrid Silent Fan Control-S2FC & S3FC An industry first, advanced 3 phased (Fanless, Silent and Cooling Mode) thermal control balances between silence and cooling. In addition, for X-1050 & 1250 a selector switch is provided to allow you to select between the Seasonic S2FC control, without fanless mode or the S3FC fan control, with fanless mode.
Sanyo-Denki San Ace Silent Fan The world-renowned Sanyo Denki Ball bearing fans are made of the highest quality components to ensure maximum quality and performance. The use of spoon shaped high-density plastic fan blades with smoothed leading edges, strict tolerance ball bearings and precision copper axel are just some features to ensure ultra-low noise performance and quality. In addition, the fan uses 3 balancing points, instead of the industry standard of 2 points, to ensure perfect balance and rotation. The Sanyo Denki fan is a perfect match to the class leading Sea Sonic Hybrid Silent Fan control for the absolute top performance of the industry.