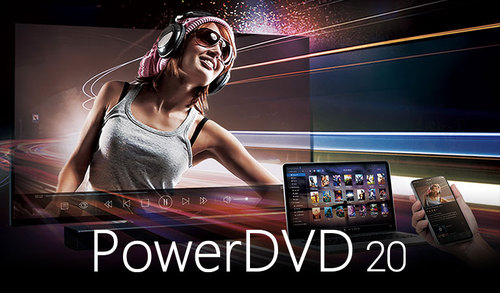 PowerDVD 20 Ultra is the ultimate media playback platform. It can handle virtually all video sources and standards, including DVD and Blu-ray discs, streaming video like YouTube, and local video files on your PC or network. Recent standards like HEVC/H.265 and 8K resolutions are supported.

There are also many premium features found in PowerDVD 20 Ultra, like 3D Blu-Ray playback (on supported output devices), BD Live, TruTheater HD Technology, 7.1 channel audio support, viewing videos in virtual reality (with a compatible headset), and streaming to other devices on your network.
Note: DOES NOT INCLUDE A CD. Includes only a serial key. If you need to reinstall it, the software can be downloaded from us by request. During installation, enter your serial key as found on your invoice.
Developer: Cyberlink PowerDVD 20 Ultra
Features
The Most Complete Multimedia Player for Home Theaters & PCs
PowerDVD plays more than just DVD and Blu-ray discs. It is an all-round multimedia player for downloads, movies, videos, audio, photos, VR 360˚ content, and even YouTube or Vimeo. Enjoy all your favorite movies and premium videos in better-than-original quality in your own home theater with support for popular media casting devices, plus most file formats and codecs. For those who like to be on the cutting-edge of entertainment PowerDVD 20 also delivers the most immersive 360˚ VR experience possible with new spatial audio support.
Superior Definition Entertainment
The next wave in ultra-high definition entertainment is here with 8K video. PowerDVD brings the latest in high-resolution video technology right into your living room to ensure you can enjoy the ultimate entertainment experience in Ultra HD 4K, HDR & now 8K on your big screen TV.
The Ultimate Cinema-grade Sound at Home
PowerDVD lets you get the most out of your home audio setup with support for master-quality sound technology from the leaders in professional digital audio
Wireless Entertainment Made Easy
Stream directly from PowerDVD to your TV using leading media casting devices
Play & Cast Almost Anything
Enjoy the Ultra HD videos shot on your GoPro, or iPhone photos in full quality as soon as you get home, even if you're running Windows 10. PowerDVD ensures playback for a wide range of file types and formats, including HEVC/H.265 video & HEIC image files, without the need to install any extra plugins. With PowerDVD 20, you can even cast a wide range of media formats and codecs to your TV, even if they are not natively supported by your Roku
Enjoy Incredible HDR Video
HDR (High -dynamic-range) video delivers deeper blacks, brighter whites, and greater color depth compared to regular video. With PowerDVD you can enjoy this next level in entertainment quality with our TrueTheater HDR enhancements & expanded GPU support for HDR video playback that removes the need to run in Windows Exclusive Mode.
External Subtitle Support for Discs
Watch your favorite titles on Ultra HD Blu-ray, or Blu-ray, in any language, even with custom subtitle files you
VR Mode for Popular Headsets
Immerse yourself in VR with support for Oculus Rift and HTC Vive headsets in PowerDVD, making it the best 4k video player for next-generation multimedia entertainment.
Pin Videos to Watch Offline
You don't even need the internet to watch your favorite YouTube clips. Pin them to watch offline or on the road.