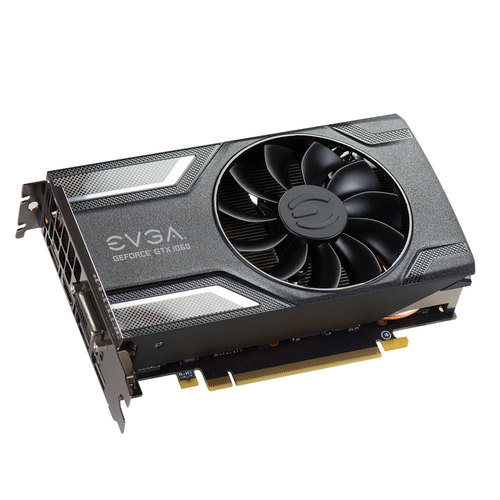 NVIDIA's GeForce GTX 1060 is the third mainstream graphics cards using their new Pascal GPU architecture, released a couple of months after the GTX 1080 and 1070. This generation is based on a die shrink to 16nm, allowing for a lot more circuitry to be packed into the same physical space used by previous graphics chips. That means a huge boost in performance, making the GTX 1060 roughly equal to the previous-generation GTX 980 - along with 50% more video memory (6GB) and lower power draw.

In addition to its speed and efficiency, the GTX 1060 also has the same under-the-hood improvements that the other Pascal cards feature. Many of these are tailored to boosting virtual reality performance, and this card will set a new, lower price point for NVIDIA's entry level VR gaming experience. In terms of major standards, the 1060 includes support for CUDA, DX12, and NVIDIA's 3D Vision technology. Finally, it supports up to 4 usable display outputs across five physical connections: DVI, HDMI, and three DisplayPorts.

William George (Product Development SME) Says:
The GTX 1060 is an amazing value card for gamers, handling 1920x1080 resolution great and doing well even at somewhat higher resolutions. It is also the entry-level card in the GeForce 1000 series for virtual reality. The performance it offers for the price is amazing: GTX 980 capabilities for half what that card cost in its day.

Christopher Crader (Customer Support) Says:
The GTX 1060 is the gaming video card I'd buy if I were going with one this generation. Solid performance and good price. As William says in his blurb, it's nearly identical to the GTX 980 in terms of performance, but with lower cost and lower power consumption. It's pretty amazing all-around. If you absolutely need better performance, or if you're looking into doing some 4k gaming, go with a higher end card. If you just need a good workhorse, this is your stallion.

Gabe Martinez (Production Technician) Says:
The GTX 1060 6GB is an excellent card and would most likely be my first choice if I were building a new system. It can game very well at 1080p and has no problems displaying higher desktop resolutions such as QHD and 4K for basic tasks such as media streaming and web browsing. It's got the right stuff for a quality card that is going to last you for quite some time. If you don't do much gaming or your monitor is a 1080p panel @ 60Hz, then you can feel good about choosing this GPU while saving some dough in the process.
Model: EVGA 06G-P4-6161-KR
Specifications