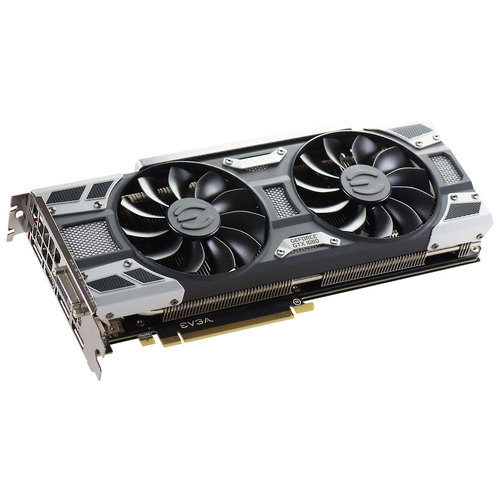 NVIDIA's GeForce GTX 1080 is the first mainstream graphics cards using their new Pascal GPU architecture. This generation is based on a die shrink to 16nm, allowing for a lot more circuitry to be packed into the same physical space used by previous graphics chips. That means a huge boost in performance, making the GTX 1080 over 70% faster than the GTX 980 and 30% faster than the 980 Ti and Titan X. Even with that increase in performance, the GTX 1080 draws only 180W - less than the 980 Ti and Titan X, and only slightly more than the vanilla 980.

In addition to its great speed and efficiency, the GTX 1080 also has under-the-hood improvements tailored to boosting virtual reality and multi-monitor performance. It is excellent at maintaining good frame-rates in games and VR experiences, even in graphics-laden titles and at high resolutions, and includes support for CUDA, DX12, and NVIDIA's 3D Vision technology. Finally, it supports up to 4 usable display outputs across five physical connections: DVI, HDMI, and three DisplayPorts.

This particular variant of the GTX 1080 uses a dual-fan cooling setup, rather than the reference NVIDIA design. This means increased cooling for the card and reduced noise levels, but most of the heat from the card is vented inside the computer rather than being exhausted out the back.

William George (Product Development SME) Says:
The GTX 1080 is a fantastic card all-around. It is great for gaming: viable as a single card at up to 4K resolution, though better suited to 1440P - and a good choice for virtual reality experiences like the HTC Vive. It also does very well in scientific computing with single precision (FP32) calculations.

This quieter version is great in single-card configurations, but for dual card setups I would tend to recommend the reference style cooling which exhausts more of the heat out the back.
Model: EVGA 08G-P4-6181-KR
Specifications