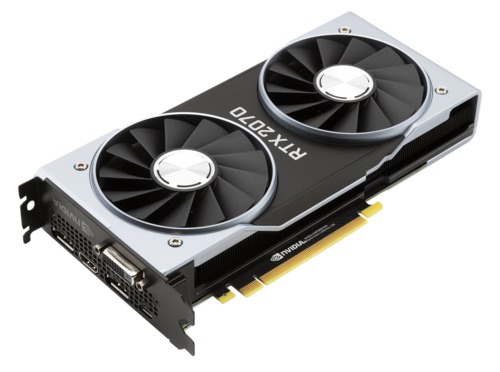 NVIDIA's GeForce RTX 2070 is part of the first wave of graphics cards based on the Turing GPU architecture. This generation represents only an incremental improvement in general graphics performance, making the RTX 2070 a little faster than the previous generation GTX 1080 (and slightly more expensive as well). The big thing that this new GPU architecture brings to the table is forward-looking features not found on previous GTX cards: dedicated RT cores for ray tracing and Tensor cores for machine learning inference. The RT cores are brand-new, while the Tensor cores have existed on previous Titan and Quadro cards - but this is the first time they've come to the mainstream GeForce series. This specialized hardware will allow for new functionality in games and GPU-accelerated applications, but will require such programs to be written specifically to utilize them in order to see much benefit.

This is also the first generation where reference "Founders Edition" cards from NVIDIA have featured a dual-fan cooling layout. This is great for keeping a single card running cool and quiet, but results in most of the heat the card generates being pumped back into the computer. That makes these a poor choice for use in multi-GPU systems, especially in configurations where there will be no space between each card. In those cases, a video card with a blower-style fan and rear heat exhaust will be much better.

Finally, in regards to connectivity, the RTX 2070 supports up to four monitors. Unlike the higher-end RTX 2080 and 2080 Ti, it still has one dual-link DVI output - along with one HDMI 2.0b and two DisplayPort 1.4. VirtualLink - a specialized Type C port combining DisplayPort, USB 3.1, and power - is also included, for single-cable connectivity to next-generation VR headsets.

William George (Product Development SME) Says:
Physically these RTX 2070 Founders Edition cards are shorter than the 2080 and 2080 Ti, and have the power connector on the end of the card instead of along the top edge. Due to the dual-fan cooling system, though, the bulk of the heat from the card is still exhausted out the top. Those are both important things to keep in mind if using this video card in a small form factor system.
Model: NVIDIA RTX2070NVIDIASI
Specifications