Puget Systems PDXLAN 28 Booth
About Us
You're that aquarium company, right?
Well...no. We used to make aquarium PC kits, and have been showing that off at events like PDXLAN for years. It is wildly popular, so much so that many people think that is what we do. It isn't. We did that for fun, and to show off how we can think outside the box when we make custom PCs.
You can check out our aquarium PC projects on our website, but they won't be at our PDXLAN booth this year.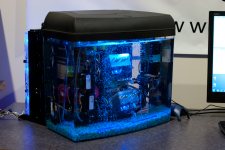 Alright then, what do you do?
We design and manufacture PCs. Really, really nice PCs. Our background is actually in building gaming PCs and PCs for tech enthusiasts. Our focus has always been on stability and reliability, so over time, we've found ourselves doing much more in HPC workstations and servers. That is why you see those things at our booth.
We also have a full line of laptops! Our desktop PCs include:
What makes you different?
We care about what we do and how we do it. Customer experience is our first priority. Lots of companies say that, but few delivery. The best way to prove that we deliver a great experience is simply to point you to our customer testimonials on our website, or at ResellerRatings.com, or on Facebook, or at Google, or at Angie's List, or at Yelp...we could go on, but we're already blushing.
I build my own PCs.
We know! We're not trying to sell you anything. That's one of the reasons PDXLAN is so fun for us -- we can relax with you! Why are we here then? We want to show you what we can do. We know that nearly everyone at PDXLAN is the "tech geek" in their circle of friends and family. We want to be the PC business you that you trust and recommend.