2U Panopto Certified Appliance
$2,413.37 per server View Specs
---
---
The video platform for training, teaching, and presenting.
Panopto makes it easy to record video presentations, manage your existing video files, and stream your video content to any device.

Leveraging our years of experience producting quiet desktops and rackmount systems, we have worked directly with Panopto to design and implement servers configured specifically for the Panopto video platform. With enterprise class hardware, and our extreme attention to detail and quality control, our solutions are not only quiet but extremely reliable as well.

High Quality Design
We have designed our Panopto Certified Appliance based on only the most reliable components, and our design is optimized for shipping durability and long term reliability. We have built a strong reputation for the reliability of our computers, and this appliance draws on all the best practices we have formed to earn that reputation.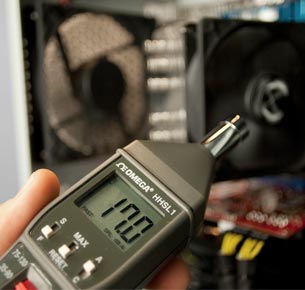 Quiet Operation
Using large heatsinks and fans, we can cool the server extremely well with minimal noise levels. When this server is in your lecture hall or lab, it must be quiet! We achieve these goals without any sacrifice to the cooling and reliability of the server.

Thermal Imaging
Thermal imaging is used in the build process of every Puget Systems product to maximize performance and reliability. When we design a Panopto Certified Appliance, our thermal imaging technology allows us to visualize exactly where the hot points are, allowing us to design our target cooling exactly where it is needed. We also thermal image EVERY appliance we build, allowing us to spot and replace any weak components that might lead to early failure. Thermal imaging gives us the ability to produce incredibly quiet servers that are also proven stable and reliable.
---
Decibel Levels


130dBA Gun shot
120dBA Front row at a rock concert
85dBA Earplugs should be worn
60dBA Normal conversation
40dBA A whisper
30dBA A totally quiet night in the desert
25dBA 2U Panopto Appliance [LOAD]
18dBA 2U Panopto Appliance [IDLE]
15dBA The drop of a pin
13dBA A standard light bulb
10dBA Threshold of hearing
---
Why Choose Puget Systems?
All components in our product line are reviewed weekly. Any trends in failure rates are acted upon immediately, leaving us with a highly reliable product line that continues to improve. We do not add a part to our product line unless we feel we can stand behind it. This results in a high quality custom computer, that works as it should. You can feel confident that any selection you make on our website is a quality product.
By keeping inventory of our most popular parts, and maintaining a short supply line to parts we need, we are able to offer an industry leading ship time of 5-7 business days on nearly all our system orders.
We make sure our representatives are as accessible as possible, by phone and email. At Puget Systems, you can actually talk to a real person! We understand that personal service must be a priority for small businesses on the web. We are happy to provide as much help as you need, with no obligation to order. We understand that the best way to have satisfied customers is to help them make informed decisions before they buy!
When you buy a custom computer from Puget Systems, we are here to help you for life. Even when your parts warranty expires, we continue to answer your questions and even fix your computer with no labor costs.
Clickherefor even more reasons!