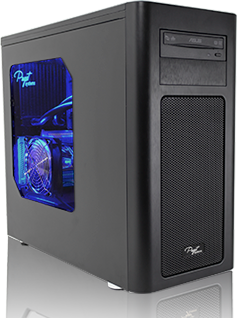 (de-loozh')
-noun
an overwhelming flood of water; inundation


the highest-performance, most cutting edge
overclockable PC we can conceive
Puget Deluge Overclocked Computers
Deluge is a finely tuned high performance gaming computer, custom designed and hand built to meet every requirement of discriminating gamers. It harnesses the intense graphics processing power of dual graphic cards technology, the most high-performance motherboard designs, Intel Core i7 processors with overclocking options, blazing fast Solid State hard drives, and low latency Kingston DDR3 memory packed into our sleek, custom liquid cooled gaming computer system. It is a must-have boutique enthusiast PC designed for the elite who push their rigs to the very limits of performance.
Buy a Puget Systems Deluge with AMD Radeon™
and CHOOSE the FREE games you want most!

For more details, visit www.amd.com/radeonrewards

Eligible Cards:

AMD Radeon™ R9 290X

AMD Radeon™ 290

AMD Radeon™ R9 280X

AMD Radeon™ R9 280

Eligible Cards:

AMD Radeon™ R9 270X

AMD Radeon™ R9 270

AMD Radeon™ R7 265

AMD Radeon™ R7 260X

AMD Radeon™ R7 260

Eligible Cards:

AMD Radeon™ R7 250X

AMD Radeon™ R7 250

AMD Radeon™ R7 240
Benefits of Puget Systems Deluge Gaming Computers
Highly Reliable Product Line
All components in our product line are reviewed weekly. Any trends in failure rates are acted upon immediately, leaving us with a highly reliable product line that continues to improve. We do not add a part to our product line unless we feel we can stand behind it. This results in a high quality gaming PC, that works as it should. You can feel confident that any selection you make on our website is a quality product.
Fast Build Times
By keeping inventory of our most popular parts, and maintaining a short supply line to parts we need, we are able to offer an industry leading ship time of 5-7 business days on nearly all our system orders.
We're Here, Give Us a Call!
We make sure our representatives are as accessible as possible, by phone and email. At Puget Systems, you can actually talk to a real person! We understand that personal service must be a priority for small businesses on the web. We are happy to provide as much help as you need, with no obligation to order. We understand that the best way to have satisfied customers is to help them make informed decisions before they buy!
Lifetime Support/Labor Warranty
When you buy a gaming PC from Puget Systems, we are here to help you for life. Even when your parts warranty expires, we continue to answer your questions and even fix your computer with no labor costs.
Completely Clean OS Installation (no added software)
No one appreciates a gaming PC preloaded with trial software, advertisements, and promotional offerings. Not only is it annoying, but it can even slow down your computer! Our competitors do this for the supplemental income, but Puget Systems refuses to offer anything except a clean install.
Latest Drivers, Patches and Service Packs Applied
For best security and performance, it is important that each gaming PC ships with the newest software and drivers available. We give personal attention to each PC before it ships, making sure it is updated.
Meticulous Assembly and Cable Routing Standards
Assembly techniques, especially cable routing, is an art. Our experienced system builders give great effort to assembling your system with care. We want you to be very happy with what you see if you open the side of your case. Check out our featured systems to see examples of our work!
Innovative Thermal Imaging
Our thermal imaging process allows us to identify and correct any hot spots in your system, making your system cooler and quieter, leading to a longer lifespan. We take thermal images of each desktop computer we ship, and make them available to you!
BIOS Screenshots
For most desktop builds we provide screenshots of every BIOS screen, as documentation of your BIOS settings. We feel it is important to keep a record of all settings we used, just in case! This also allows you a convenient record of our settings, in case you decide you make changes and can't remember your original settings.
106 Point Quality Control Checklist
When you're shipping as many computers a day as Puget Systems, it can be challenging to make sure nothing is overlooked when you have so many things that you want to give personal attention. To ensure nothing gets missed, we have a comprehensive checklist to step our techs through the process. Each check point records the exact time and name of the technician.
Safe Packing Materials
Shipping damage is one of the biggest problems in the computer industry. Using specially made packing materials, our computers receive excellent shipping protection, far exceeding UPS and FedEx recommendations, as well as our competitors!
Burn-In Process
Your gaming PC is fully tested prior to delivery. All hardware and software components are tested under heavy load to ensure reliability in the harshest conditions!
System Restore DVD
In addition to receiving your full operating system disks, we also provide a system restore DVD, allowing you to quickly wipe your hard drive and restore your operating system to exactly the way it was when you first received your PC! We include this service with our Windows 7 PCs (except where prevented by an especially exotic configuration).
Deluge Key Partners