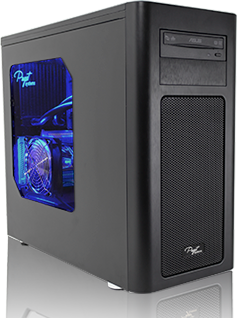 (de-loozh')
-noun
an overwhelming flood of water; inundation


our performance-tuned overclockable gaming PC
Now offering Intel X99 and Haswell-E on
Deluge XL
Win a Puget Systems Deluge PC!
Until Sept 26, you have a chance to win a brand new Puget Systems Deluge gaming PC, equipped with the new ASUS X99 Deluxe motherboard, new Intel Core i7 5960X processor, NVIDIA 780 Ti video card, and dual Intel 730 240GB SSDs in RAID0.
---
Puget Deluge Overclocked Gaming Computers
Deluge is a performance-tuned gaming computer, custom designed and hand built to meet the needs of discriminating gamers. It features dual graphic card options in SLI or Crossfire, the most high-performance motherboard designs, Intel Core i7 processors with overclocking options, blazing fast solid state hard drives, and low latency memory packed into our sleek, custom liquid cooled gaming computer system. It is a must-have PC for the elite who push their rigs to the very limits of performance.

Deluge




A gaming PC with closed-loop liquid-cooling for the CPU and overclocking options to match.

Deluge XL




A fully liquid-cooled gaming PC with amazing performance and overclocking options.
---
Game and Software Bundles Available with Deluge Gaming PCs
---
Recommended reading:

09/19/2014
09/09/2014
09/08/2014
09/08/2014
08/29/2014
08/29/2014
08/15/2014
08/01/2014
07/30/2014
07/09/2014
06/06/2014
05/22/2014
05/02/2014
03/13/2014
01/06/2014
12/20/2013
11/21/2013
11/13/2013
04/01/2013
02/19/2013
08/01/2012

Deluge Key Partners: