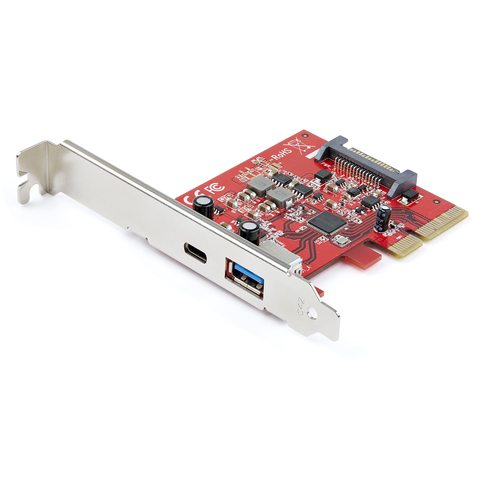 This StarTech brand card provides a pair of USB 3.2 Gen 2 ports, each providing up to 10Gbps. One is Type A, the same shape as older USB 1.0 / 2.0 / 3.0 ports, and is backward compatible with older devices without need for adapters. The other is the new Type C port, which is smaller and expected to be the new standard going forward.

Internally, this card requires a PCI-Express x4 (or larger) slot on the motherboard. It also needs a SATA power connection, in order to ensure plenty of power delivery to connected devices.

Some motherboards already have USB 3.2 Gen 2 ports, in which case a card like this may not be needed. If additional USB 3.2 Gen 2 ports are needed, though, this card should fit the bill. Check the specifications of the motherboard you are considering, or ask our consulting staff, if you are unsure how many USB ports you will already have access to.
Model: StarTech PEXUSB311AC3
Specifications
Card Specifications

Manufacturer
Startech
Type of Ports
USB 3.2 Gen 2 (10Gbit/s)
Number of Ports
2
Port Location(s)
External
Slot Style
PCI-Express x4
Form Factor
Low/Full Height

Controller Chip

Brand
Asmedia
Model
ASM3142

Dimensions

Net Weight
0.175 kg (0.4 lbs)