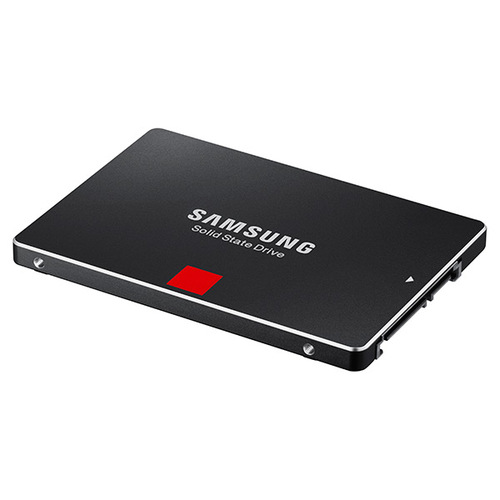 Samsung's line of solid-state drives are among the fastest SSDs on the market. The 850 Pro series improves upon the well respected 840 Pro with higher speeds and a doubled warranty length of 10 years (or 150TB of writes). It uses the industry standard SATA 6Gbps interface and supports 256-bit AES drive-level encryption. This specific 1TB capacity model reaches up to 550MB per second for reads and 520MB per second for writes, and in excess of 90k IOPS.

Perfect for notebooks, SSDs are ideal for energy-efficient mobile computing to extend battery life, increase access time, and provide a durable alternative to conventional hard disc drives with superior shock resistance. High capacities and low power consuming NAND flash technology provide the necessary performance and battery life boosts generated by the proliferation of mobile gaming and new ultra-thin laptops. With fast access and seek times combined with excellent reliability, SSDs are the answer for consumers demanding this latest storage technology.
Model: Samsung MZ-7KE1T0BW
Specifications
Capacity
1000 GB
Interface
SATA 6 Gb/s
Form Factor
2.5 Inch
Idle Noise
0 dB
Seek Noise
0 dB
Command Queueing
NCQ
Endurance (TBW)
300 TBW

Performance

Sequential Read (Peak)
Up to 550 MB/s
Sequential Write (Peak)
Up to 520 MB/s
Random 4KB Read
Up to 100,000 IOPS
Random 4KB Write
Up to 90,000 IOPS
Features
Ultimate Read/Write Performance
Samsung's 850 PRO, the world's first 32 layer 3D V-NAND, provides up to 100K IOPS Random Read Speed and 470 MB/s Sequential Write speed and the option of enabling Samsung RAPID mode, which can kick up to even higher speeds. With up to 2x the speed and density of conventional 2D flash, you get the most speed available for gaming and real world performance
Enhanced Endurance and Reliability
With an industry-leading 10 year, 150 TBW warranty, the 850 PRO offers unbeatable reliability. When combined with the 850 PRO's 256-bit AES Self-Encrypting Drive (SED) security technology, you can rely on your files being secure and available whenever you need them.
Efficient Power Management
Featuring a 4th generation MEX Controller, the 850 PRO offers one of the most energy-efficient drives on the market, using up to 50% less power than traditional hard drives. It has the lowest active write power consumption and supports device sleep mode, which lowers power consumption to under 2mW.