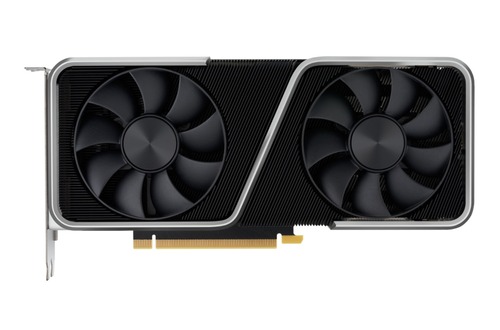 NVIDIA's GeForce RTX 3060 Ti is a mid-range consumer graphics card based on the Ampere architecture, which in turn is the second generation of NVIDIA GPUs to offer hardware raytracing and other advanced features under their RTX branding. This particular model is basically a cut-down version of the RTX 3070, but with the same 8GB of onboard memory - resulting in performance that is generally 5 to 15% slower for roughly a 20% lower price.

This "Founders Edition" variant, directly from NVIDIA, uses a unique dual-fan cooling layout. It is a great design for keeping a single card running cool and quiet, venting some heat out the back of the computer while circulating the rest upward within the case. We have found in our testing that this makes a dual-card configuration viable, as long as the chassis fans can ramp up to help with cooling, but for more than two GPUs you would need to use models with a blower-style fan and rear heat exhaust instead.

Finally, in regards to connectivity, this card has one HDMI 2.1 and three DisplayPort 1.4a plugs supporting a total of up to four displays at a maximum resolution of 7680x4320 (8K).
Model: NVIDIA RTX3060TiFE
Specifications