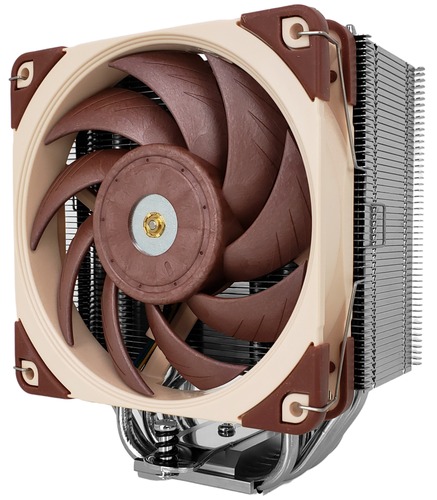 The Noctua NH-U12A is a high-end, tower heatsink and fan cooling system. It is thicker and has more heatpipes than the less expensive NH-U12S, providing better heat dissipation for high-end processors. The included fans are also more powerful than previous Noctua models, while still maintaining very low-noise operation even at maximum load. In fact, the fans are so good that we have found
a single fan does just as good of a job at cooling as two
in a push-pull configuration, and since the second fan can block access to RAM slots on some motherboards we have opted to source it directly from the manufacturer with a single fan installed instead of two. We are passing the cost savings that provides along to you, our customers.

William George (Product Development SME) Says:
Noctua fans and heatsinks are of the highest quality, and extremely quiet. This particular model has a beefy heatsink and uses the latest Noctua fans, which push even more air than past designs without increasing the noise level. This variant works with current Intel Core and Core X processors as well as AMD Ryzen models (and some older chips as well).
Model: Noctua NH-U12A
Specifications
Dimensions

Length
125 mm (4.9 in)
Width
85 mm (3.3 in)
Height
158 mm (6.2 in)
Net Weight
1 kg (2.2 lbs)

Fan Specifications

Air Flow
60 CFM
Bearing
SSO2
Current
0.14 A
Fan Size
120 mm (4.7 in)
Fan Speed
2000 RPM
Life Time MTTF
>150,000 hours
Noise Level
22.6 dBa
Static Pressure
2.34 mmAq

General

Compatibility
Intel LGA1700, LGA1200, LGA1150, LGA1151, LGA1155, LGA1156, LGA2011, LGA2066 and AMD AM5, AM4, AM3(+), AM2(+), FM1, FM2(+)
Warranty
6 Years