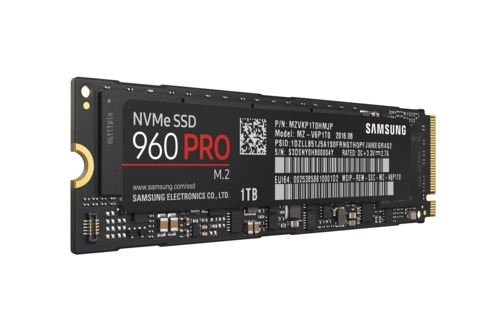 Samsung's 960 Pro line of solid-state drives is their second generation of retail M.2 form factor SSDs. These drives run at a full PCI-Express 3.0 x4 speed, which provides lots of bandwidth and results in performance that is several times what a SATA III based SSD can provide. This 2TB model has sequential read speeds of up to 3.5GB/s with write speeds up to 2.1GB/s.

Please note that some M.2 slots on motherboards only run at PCI-E x2 speed, rather than the x4 this SSD is capable of. In such cases, performance will be limited by the speed of the slot. These drives can also get hot during extended read / write operations - moving data in the hundreds of gigabytes range. That is an extreme scenario, and most users will never run into it, but if the drive does get too hot it will throttle down to prevent overheating. That will reduce performance by as much as 50% until it cools off, but even then performance is still well above what SATA-based SSDs offer.

Aaron Bacon (Production Technician) Says:
The Samsung 960 Pro 2TB M.2 SSD is an excellent choice if you're looking for the best possible option in storage drives. It's fast, it's got a huge capacity, and it's completely plug and play. No wires, no hassle.
Model: Samsung MZ-V6P2T0BW
Specifications
Capacity
2048 GB
Interface
PCIe 3.0 x4
Cache Size
2048 MB
Form Factor
M.2 2280
Idle Noise
0 dB
Seek Noise
0 dB
Endurance (TBW)
1200 TBW
Peak Power Draw
5.8 Watts

Performance

Sequential Read (Peak)
Up to 3,500 MB/s
Sequential Write (Peak)
Up to 2,100 MB/s
Random 4KB Read
440,000 IOPS
Random 4KB Write
360,000 IOPS