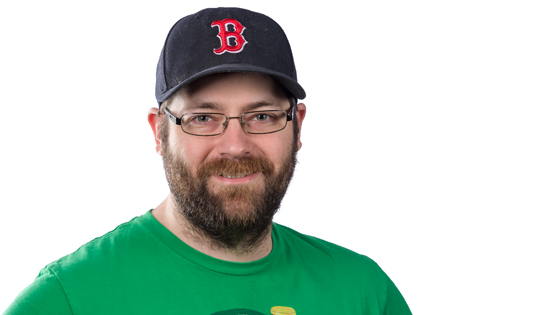 John D.
senior production technician
THEN: - before Puget -
I've been interested in technology my entire life, from computers and video games to electronics projects and repairs. I've been building systems for myself and family since my early teens, so doing it as a profession is a natural fit.

NOW: - here at Puget -
As a production technician here at Puget, I help to make sure your system gets put together right, just how you want it. I also work with our laser machine, which lets us do things like custom etching and making custom acrylic parts to make our systems even better.

MY FIRST COMPUTER:
Commodore 64. LOAD "*",8,1

MY DREAM COMPUTER:
Quiet.

LIFE: - outside Puget's walls -
I'm a big sports fan, especially Formula 1 racing and ice hockey. Boston Bruins #1!
HOMETOWN:
Seattle, WA
---
John D.'s Recent Comments:
John D. (Senior Production Technician) Says:
The M-Audio Super DAC is a very attractive option as an affordable upgrade if you find your onboard audio output leaves something to be desired. It has convenient controls with both 3.5mm and 1/4" headphone outputs, a switch to select between headphone and rear outputs, and support for up to 24-bit 192kHz output. It supports bus power, so no additional power input is required. The rear outputs are controlled by the main volume knob, which is very convenient for powered monitors that don't have easily accessible volume controls. What I like most is that to my ears, the sound quality is on par with much more expensive units. My only real warning is that there is probably not enough power in the headphone output for particularly high-impedance or very inefficient headphones.

John D. (Senior Production Technician) Says:
The Objective DAC and Objective 2 headphone amplifier circuits are designed for the most accurate audio reproduction possible. This version from JDS Labs combines both units into one sturdy, compact package. It's fully plug-and-play up to 24-bit 96kHz without the installation of any additional drivers. Switchable gain modes allow for use with efficient low-impedance headphones while still having plenty of power for high-impedance or inefficient planar phones--this is a great option if you need some extra juice. Note that the rear outputs are direct lines from the DAC--they're always-on and unaffected by the volume control.

John D. (Senior Production Technician) Says:
This is a decent, functional sound card. That said, given the lack of advanced features, I would seriously consider just using the motherboard's built-in audio chip, as those are generally of pretty good quality these days. Where I would recommend this card is if you need audio output on a server board that lacks a built-in audio controller.

John D. (Senior Production Technician) Says:
The Silverstone SG10 is a pretty decent solution to get full-size power in a smaller package. It takes full ATX power supplies and has ample space for large tower-style CPU coolers, meaning high-power CPUs can be used without issue. The Micro-ATX form factor even makes SLI an option, and all while taking up significantly less space than a standard mid-tower chassis. The compromise to get all this in a small box is drive options. Optical drives are only supported in slim slot-load format, and SSD/HDD mounting is limited but generally sufficient. Overall, the SG10 is a big step up in both functionality and aesthetics compared to older compact-form offerings like the SG01.

John D. (Senior Production Technician) Says:
The Noctua NH-U12DX i4 is a really great CPU cooler for Intel Socket 2011 systems. The color scheme on the fan is a little odd, but this cooler's performance is exceptional in every regard. It mounts quickly and easily but is also very secure, and cooling is very good while also being very quiet. Highly recommended.