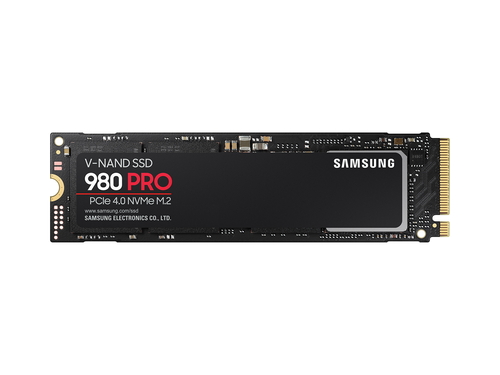 Samsung's 980 Pro line of solid-state drives is their fourth generation of retail M.2 form factor SSDs, and the first to support PCI-Express 4.0. That new interface version allows for greatly increased maximum transfer speeds, potentially as much as double that of previous generations. This specific 1TB model has sequential read speeds of up to 7GB/s with write speeds up to 5GB/s.

Please note that many CPUs and platforms do not support PCI-E 4.0 yet, and on some motherboards the M.2 slots may not have the full PCIe x4 lanes this SSD is capable of utilizing. In either of those cases, performance will be limited by the speed of the slot. These drives can also get hot during extended read / write operations - moving data in the hundreds of gigabytes range. That is an extreme scenario, and most users will never run into it, but if the drive does get too hot it will throttle down to prevent overheating. That will reduce drive speeds until it cools off, but even in that situation performance is still well above what SATA-based SSDs offer.

William George (Product Development SME) Says:
This new 980 Pro series from Samsung gains a lot of speed, but also costs less per GB than previous Pro models. The trade-off is that these drives' endurance has been cut in half - likely due to the use of more data-dense memory (3-bit NAND instead of 2-bit). For most use cases, however, that should not be a problem.
Model: Samsung MZ-V8P1T0B/AM
Specifications
Capacity
1,000 GB
Interface
PCIe 4.0 x4
Cache Size
1024 MB
Form Factor
M.2 2280
Endurance (TBW)
600 TBW
Peak Power Draw
6.2 Watts
Net Weight
0.009 kg (0.0 lbs)

Performance

Sequential Read
7,000 MB/s
Sequential Write
5,000 MB/s
Random 4KB Read
1,000,000 IOPS
Random 4KB Write
1,000,000 IOPS