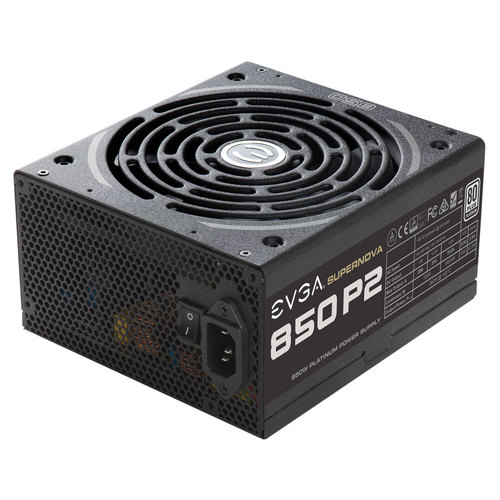 The EVGA SuperNOVA 850W is a full-featured, 80 PLUS Platinum-certified power supply unit - complete with entirely modular wiring for clean assembly and a 140mm fan for cooling. Its ECO fan mode turns the fan off entirely at low power draw levels, and even when it spins up the fan remains relatively quiet.

William George (Product Development SME) Says:
The fan on this unit is slightly louder than the one on the Seasonic 850W power supply we carried before it, but that only matters when the load is high enough to cause the fan to turn on. In trade for that slight downside, the unit puts off less electrical noise - making any actual impact on noise level under heavy load pretty much even. It is more efficient, though, with ~92% peak efficiency.

Oscar Tirado (Marketing Coordinator) Says:
In my opinion, when you're building a computer the power supply should be the most important component in your system. If your power supply dies, there's a probability that it can take other components with it. EVGA has always been one of the most reliable manufacturers when it comes to computer components, & their track record shows that. There's only 1 downside with this unit & that's the fan. It's a little louder than what we are accustomed to hearing, but in no way is it bothersome. Actually, due to its 80 Plus Platinum (~92%) efficiency & Eco Mode, the fan rarely turns on.

Gene Han (Production Technician) Says:
EVGA is one of my favorite manufacturer of Power Supplies. They are top shelf when it comes to stability and efficiency. This SuperNova 850W PSU features Fully Modular, Black Braided Cables, Making cable management easy to work with while maintaining its aesthetics.
Model: EVGA 220-P2-0850-X1
Specifications
Maximum Power
850 W
Standard Compliance
TUV, CB, CE, FCC, RCM, cTUVus, WEEE, RoHS Compliance with ErP Lot 6 2013 Requirement
Peak Efficiency
92 %
Efficiency Certification
80 PLUS Platinum
Cooling System
140mm Fan
Noise Level
0-32 dB
Safety Compliance
TUV, CB, CE, FCC, RCM, cTUVus, WEEE, RoHS Compliance with ErP Lot 6 2013 Requirement

Power Distribution

+3.3V rail
20 amps
+5V rail
20 amps
+12V1 rail
70.8 amps

Connectors

Molex
4
SATA
10
Floppy
1
PCIe 6-Pin
2
PCIe 8-Pin
4
CPU Power 8/4 pin
2
External Connector Type
C13

Dimensions

Height
85 mm (3.3 in)
Width
150 mm (5.9 in)
Depth
165 mm (6.5 in)
Net Weight
3.6 kg (7.9 lbs)

Input

Voltage
100-240 Vac
Frequency
50/60 Hz
Features
ECO mode keeps the fan off when unneeded, and is only ran at the lowest speed needed to keep the internals cool.
Fully modular cables