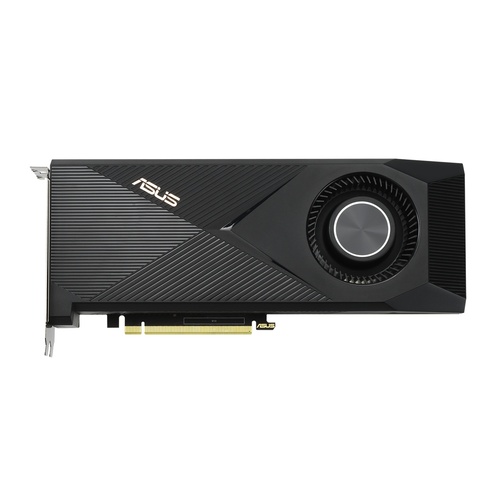 NVIDIA's GeForce RTX 3080 Ti is a high-end consumer graphics card based on the Ampere architecture, which in turn is the second generation of NVIDIA GPUs to offer hardware raytracing and other advanced features under their RTX branding. This model offers 3D performance very close to the level of the top-end RTX 3090, but with half the onboard memory (12GB instead of 24GB). That makes it an excellent choice for applications where extreme graphics performance is required, but massive amounts of VRAM are not necessary.

This variant from Asus uses a single-fan, blower-style cooler. That means most of the heat generated by the card is exhausted out the back of the system, making this design ideal for multi-GPU configurations. In trade it will make a lot more noise under load, since the one fan has to run at much higher RPMs in order to dissipate the same amount of heat as the two or three fans on other variants.

Finally, in regards to connectivity, there are one HDMI 2.1 and three DisplayPort 1.4a plugs supporting a total of up to four displays at a maximum resolution of 7680x4320 (8K).

William George (Product Development SME) Says:
There is a physical switch on this card to change the fan profile between 'fast' and 'quiet'. However, the 'quiet' setting is barely sufficient at cooling a single card configuration - and still very loud under load. Because these are really designed for multi-GPU configurations, we leave it on 'fast' (which is the default anyway).
Model: Asus TURBO-RTX3080TI-12G
Specifications