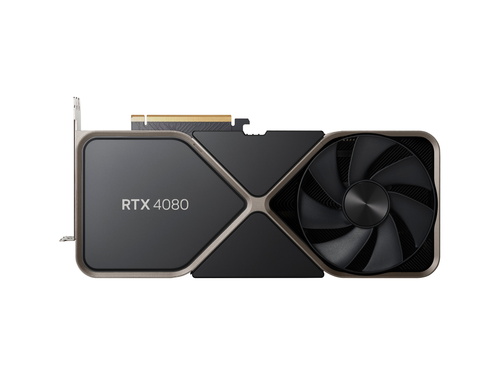 NVIDIA's GeForce RTX 4080 is the second consumer graphics card in their GeForce RTX 40-series, which is based on the Ada Lovelace architecture. This generation brings substantial increases to overall performance, but without a corresponding increase in power usage - giving it excellent efficiency and resulting in generally cool and quiet operation. It includes 16GB of onboard memory, a reduction compared to the more expensive RTX 4090's 24GB, but still has the same pair of upgraded video encoders with support for the AV1 codec. For more detailed performance info,
check out our RTX 4080 Content Creation Review
.
This RTX 4080 "Founders Edition" variant, directly from NVIDIA, uses a unique dual-fan cooling layout. It is a great design for keeping a single card cool and quiet, by venting some heat out the back of the computer while circulating the rest upward within the case. In fact, it is the same heatsink and fan setup that is used on the RTX 4090 - and it is frankly overkill for this card's much lower power usage. Unfortunately that physical size means most mid-tower cases will only be able to accommodate one, but some larger towers may be able to handle two of them.
Finally, in regards to connectivity, there are one HDMI 2.1a and three DisplayPort 1.4a plugs supporting a total of up to four displays at a maximum resolution of 7680x4320 (8K).

William George (Product Development SME) Says:
This is a fantastic card, generally matching or exceeding the performance of the previous top-end models (RTX 3090 and 3090 Ti) for a lower price and with less power usage, heat output, and noise. The only downside compared to those cards is that it has less VRAM, at "just" 16GB, but unless you are working with datasets that need more memory space this is a great choice.
Model: NVIDIA 900-1G136-2560-000
Specifications