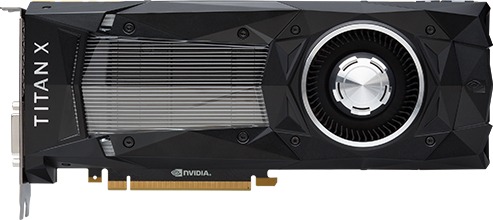 The NVIDIA Titan X was the top-end of their Pascal based graphics card line when it launched in 2016, and despite the extremely similar name is distinct from the Maxwell-based GeForce GTX Titan X - and much faster. It is effectively the 'big brother' to the already powerful GTX 1080. That makes the NVIDIA Titan X the fastest card available in its generation for gaming, and also a powerhouse for single-precision (FP32) GPU calculation workloads.

It shares the same technology as the rest of the GTX 1000-series line, which is all based on the Pascal graphics architecture, and has a massive 12GB of dedicated video memory - 50% more than the 1080 is equipped with. It has 40% more processing resources than the 1080 as well, though it runs at slightly lower clock speeds. Overall that gives it a 20-30% lead over the 1080 in terms of performance, without considering the impact of the higher memory capacity.

Like the other Pascal based cards, the NVIDIA Titan X includes support for CUDA, DX12, and NVIDIA's 3D Vision technology - as well as architectural improvements to increase performance in virtual reality applications. It supports up to 4 usable display outputs across five physical connections: DVI, HDMI, and three DisplayPorts.

William George (Product Development SME) Says:
I don't normally recommend a card as expensive as the Titan X for gaming, since the GTX 1080 gets you about 80% of the Titan X's performance for several hundred dollars less - but if you want to have the best 4K experience with a single video card then this is it (for this generation of video cards, at least). Its real purpose, though, is for computational workloads that can harness the GPU: there the Titan X and its 12GB of memory really shine, and the price is more justifiable. Update: As of March 2017 the GTX 1080 Ti is now a better choice for gaming than the Titan X. It is just as fast, but costs far less. The only downside is 11GB of memory instead of 12, but for gaming that really doesn't matter. For professional applications and scientific computing, the newer Titan Xp has 12GB of memory and is about 10% faster than the 1080 Ti or Titan X - but you'll have to decide if that performance increase is worth the extra cost.
Model: NVIDIA Titan X
Specifications