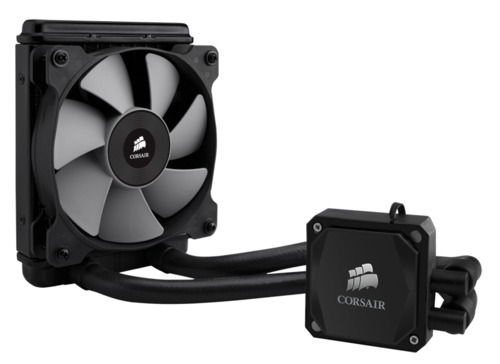 This Corsair Hydro series cooler is a self-contained CPU liquid-cooling solution with a copper base. It is designed as an all-in-one alternative to the normal CPU heatsink/fan units found in most computers. The advantage the Corsair Hydro offers over air-cooling is the ability to keep hot-running processors at lower temperatures. This allows the use of higher wattage CPUs, and can allow better overclocking performance as well.

This specific model, the Hydro H60, uses a single 120mm fan to mount and cool the radiator. That means it only works in a chassis where there is a 120mm fan mount near the CPU, and where the airflow layout allows for both fresh air intake over the radiator and nearby exhaust of the hot air as well. For mounting it comes with hardware to fit AMD's AM2, AM2+, AM3, FM1, and FM2 CPUs as well as Intel's socket 775, 1150, 1155, 1156, 1366 and 2011 processors.

Jeff Stubbers (Tier 3 Consulting Lead) Says:
This is a very nice self-contained, fully-sealed liquid cooled CPU cooler. These have been very reliable, and is the go-to choice when you plan to overclock your processor. If you are not overclocking, then I would recommend the air-cooled CPU cooler option which will be more quiet and have less moving parts that may potentially fail.

Christopher Crader (Customer Support) Says:
This Corsair Hydro H60 units are nice because they're extremely quiet and it takes a lot to get the radiator fan to ramp up due to the liquid cooling design. That said, there are air solutions like the Gelid Tranquillo, which can actually run even quieter under most loads, though you'll get more variation in the noise. So either way you're going to have low noise, but with this unit you're going to have something that's a bit louder, but more consistent.

Josh Raye (Research and Development SME) Says:
Regularly maintaining a custom liquid cooling setup is a commitment. We all know what happens if you decide to stop changing the oil in your car, and similarly detrimental repercussions can happen to your PC if you decide to stop changing your coolant (ask our repair department). That's what makes these little closed-loop units so attractive -- low maintenance, inexpensive, and they still provide real-deal liquid cooling performance. This "Rev 2" version also has a significantly quieter pump than the last generation, which is always a welcome improvement around here.

Oscar Tirado (Marketing Coordinator) Says:
This all in one liquid cooling unit is great for those who don't want the hassle of maintaining a fully liquid cooled computer. This is an awesome all in one solution that gives you great cooling, which therefore allows you to overclock & get more performance out of your system.

Chris Stephens (Vice President - Operations) Says:
I really like the closed loop cooling systems, like the Corsair Hydro Series, because they accomplish everything you need liquid cooling to do for the processor without the pain that can come with a "full liquid cooling system". Sealed from the factory these things just don't fail.
Model: Corsair CW-9060007-WW
Specifications
Dimensions

Length
120 mm (4.7 in)
Width
120 mm (4.7 in)
Height
27 mm (1.1 in)

Fan Specifications

Air Flow
54 CFM
Fan Size
120x120x25 mm (4.7 in)
Fan Speed
2000 RPM
Noise Level
30.85 dBa
Static Pressure
2.36 mmAq

General

Compatibility
Intel LGA 115x/1136/2011 and AMD AM2/AM3/FM1/FM2
Features
Self-contained cooling system Serious liquid cooling for high-performance CPUs no longer means dealing with complex plumbing. Hydro Series H60 comes pre-filled, and never needs refilling or priming.
Tool-free magnetic multiplatform mounting bracket kit The modular design makes installation simpler, and it's compatible with Intel and AMD processors.
Large-diameter, low permeability tooling Minimal coolant evaporation helps ensure long life, and the flexible design gives you better leak protection and makes installation easier in tight spaces.
Copper cold plate with pre-applied thermal compound Copper has better thermal conductivity for more efficient heat transfer to the manifold. Pre-applied thermal compound lets you save a potentially messy installation step.