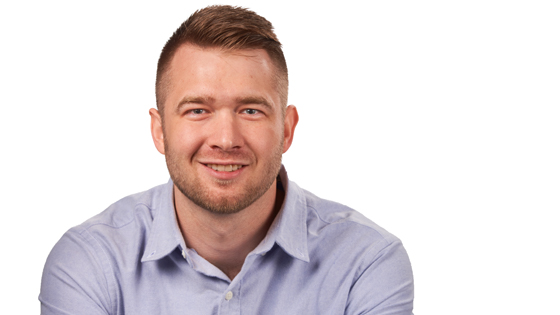 Josh Raye
product manager
9 years with Puget Systems
Josh started at Puget Systems as an Assembly Technician in 2011. From there, he learned as many jobs on the Production floor he could, including working in Quality Control where he ensured every machine leaving the building was a true representation of a Puget Systems' computer. Today, Josh is our Product Manager. He leverages his technical skills to drive improvement in our product line. He works closely with the rest of the company to find and qualify parts that make a modern Puget Systems' workstation. Josh says he turned his hobby into his profession by joining the team here at Puget Systems. He spends his free time going on adventures with his wife. Ask Josh and he will tell you he feels "immensely fortunate" to live the life he does.
HOMETOWN:
Tacoma, WA
---
Josh Raye's Recent Comments:
Josh Raye (Product Manager) Says:
A great looking high end motherboard with tons of features. There's a whopping 10 USB 3.0 ports on the back, tons of PCI-e slots, 8 RAM slots with quad channel capability, and onboard 3x3 wireless AC. The CPU options are also more robust than a typical motherboard, with options for 8 core, and even 10 core processors.

Josh Raye (Product Manager) Says:
The Seasonic X-850 has everything a high-end power supply should offer. It has modular design, high efficiency, consistent voltages, and very quiet operation. In fact, this unit is completely silent in most idle situations, because the 120mm fan only cuts on when the system has reached a certain load/temperature threshold. Even then, I would say it's far from loud. In regards to it's wattage, 850W is more than adequate for the majority of configurations.

Josh Raye (Product Manager) Says:
This is a beefy high performance PSU, and is only truly necessary if you have a very power hungry system. Now, the fan on this unit is louder than the seasonic power supplies we carry, but the eco feature (which we enable by default) allows the fan to turn itself off when the power supply is cool enough. There are a few other neat features like 80 Plus Platinum efficiency and fully modular design. All of this together makes for a very solid choice.

Josh Raye (Product Manager) Says:
This new Black series is pretty quick as far as traditional platter drives are concerned, but there are trade-off's depending on what capacity you choose. This 2TB sound great at idle, and makes very little vibration, but once it starts accessing data the seek noise is quite loud (the 4TB is a similar story). The 1TB has a little more vibration, is louder at idle, but the obnoxious seek noise is much less noticeable.

Without the use of a silent drive enclosure, I would have a hard time recommending this hard drive unless you were using it as a secondary, where it would be accessing only part of the time. However, if the rest of your system is not configured for quiet computing, go for it -- it's a fast and reliable performer.

Josh Raye (Product Manager) Says:
Silverstone has made some smart, though unconventional decisions while designing this case. The video card sits parallel to the motherboard with the use of a riser card, it uses an SFX form-factor power supply (which greatly limits the selection of compatible PSUs), and the motherboard is oriented upside-down when the case is standing vertically. I usually think Silverstone makes the insides of their cases needlessly complicated, but I can forgive them here. It's not traditional, but it makes sense, and it really does the most it can with these dimensions.

Josh Raye (Product Manager) Says:
After checking the NH-U12DX out, I have zero doubt in the quality of this thing. It feels exceptionally solid, the fins are thick, the finish where it contacts the CPU is flawless -- just ask anything in regards to it's quality, and I will confidently tell you this is first class. If / when I move back to air cooling, Noctua will be the first name I look up.