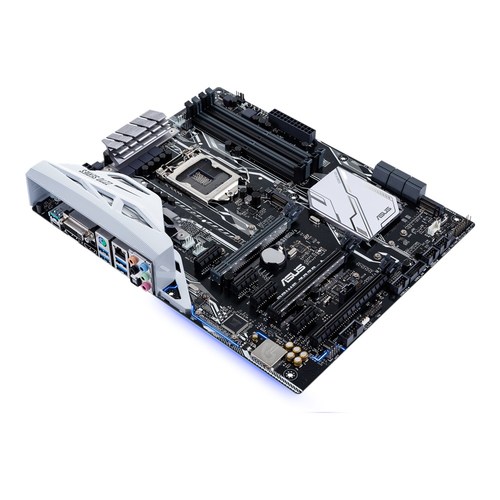 The Asus Prime Z270-A is an ATX motherboard for Intel's Kaby Lake processor platform. It offers a solid mix of features and lower cost, making it a great value, while still providing Asus' respected quality.

In terms of connectivity, this board is very well rounded. It has a wide range of video outputs, with DVI, HDMI and DisplayPort all present. For memory it has four DDR4 slots, allowing up to 64GB of RAM. Drive connectivity includes SATA III, SATA Express, and two M.2 slots. It also has both analog and digital audio outputs, Gigabit Ethernet, a mix of USB 3.0 and 3.1 ports, and even a legacy PS/2 port. In terms of expansion card support, there are seven total PCI-Express slots in varying sizes. SLI and Crossfire are supported as well, though when two video cards are installed the PCI-E slots they are in run at x8 speed rather than x16.

William George (Product Development SME) Says:
This is a great, affordable motherboard for the Z270 platform - with all three digital video output standards. Since you can use all three of those outputs at a time, this is also a great platform for running two or three monitors without needing a dedicated video card! It also still has a legacy PS2 port for older keyboards or mice, and support for the latest connectivity like M.2 drives and USB 3.1 devices.

Jeff Stubbers (Tier 3 Consulting Lead) Says:
This motherboard can support up to (3) monitors with its single-link DVI, which supports up to 1920x1200 @ 60Hz resolution max, HDMI 1.4b, which can carry a 3D 1080p video signal at 120 Hz, and support up to 4096x2160 resolution at 24 Hz / 2560 x 1600 @ 60 Hz, and DisplayPort 1.2, which can support 4096 x 2304 @ 24 Hz / 3840x2160 resolution at 60 Hz.

This motherboard comes with (1) USB 3.1 Type A (rectangle USB shape), and (1) USB 3.1 Type C (new smaller unidirectional) connection available in the back of your system. USB 3.1 Type C is how they should have made USB ports in the first place. They will work regardless of the direction you plug them into the port, unlike how Type A needs to be put in a certain direction to fit and operate properly. This board also comes with (4) USB 3.0 ports, (1) PS/2 hybrid port, (1) Gigabit Ethernet RJ-45 port, 8.1 channel 1/8th plug ports, with (1) Optical S/PDIF output, and includes mounting spots for (2) M.2 drives.
Model: Asus Prime Z270-A
Specifications
Socket
1151
CPU Compatibility
Intel Socket 1151 for 7th Generation Processors
Form Factor
MicroATX
Chipset Manufacturer
Intel
Chipset
Z270
Front Side Bus
DMI 3.0
Network Connectivity
Gigabit Networking
Network Controller
Intel
Audio Controller
Realtek ALC892 7.1 Channel HD Audio
Cooling System
Heatsink
Color
Black

Memory Support

Type
DDR4
Maximum Speed
2400 MHz
Number of Slots
4
Maximum Size per Slot
16 GB
Maximum Amount Supported
64 GB

Onboard Video

Chipset Manufacturer
Intel
Processor Type
CPU Integrated Graphics
Maximum Shared Memory
512 MB
Maximum DVI Resolution
1920x1200
Maximum HDMI Resolution
4096x2160
DVI
1
HDMI
1
HDMI Version
1.4b
DisplayPort
1

External Connections

USB 3.2 Gen 1 (USB 3.0)
4
USB 3.2 Gen 2 (USB 3.1)
1
USB 3.2 Type C
1
PS/2 Keyboard
No
PS/2 Mouse
No
Audio Out
Surround Sound (7.1)
Audio In
Line-In/Microphone
LAN (RJ45)
1

Internal Connections

USB 2.0
3 (providing 6 ports)
USB 3.2 Gen 1 (USB 3.0)
1
SATA III 6.0Gbps
6
M.2 Connector
2
M.2 Support
Socket 3 for M Key, type 2242/2260/2280/22110 devices
TPM (module sold separately)
1

SATA Controllers

SATA III 6.0Gbps Controller 1
6 port - Intel Z270

Expansion Slots

Slot 1
PCI Express 3.0 x1
Slot 2
PCI Express 3.0 x16
Slot 3
PCI Express 3.0 x1
Slot 4
PCI Express 3.0 x1
Slot 5
PCI Express 3.0 x8 in a x16 size
Slot 6
PCI Express 3.0 x1
Slot 7
PCI Express 3.0 x4 in a x16 size

Additional Information

SLI Compatible
Yes
Crossfire Compatible
Yes
RAID Support
0,1,5,10
Bluetooth
No
Dual GPU Slot Spacing
3-Slot

BIOS Features

UEFI BIOS
Yes
EZ Flash
Yes
OC Profiles
Yes

Dimensions

Height
305 mm (12.0 in)
Width
244 mm (9.6 in)
Warranty
3 Years