What is Bluetooth
Bluetooth is a short-range wireless connection that smaller devices use to communicate with a computer operating system. Some common wireless devices include:
Mice / Keyboards
Headsets
Phones
Printers
Speakers
How to Pair Devices
With Bluetooth devices, there is a difference between pairing and connecting your device. When you pair your device to your computer, you're telling your PC that you trust the device. Once the device is paired, you need to be connected for it to work. To pair a device, follow the instructions to put it in pairing mode so you can find it from your computer. If you are having issues connecting a paired device, visit Settings > Device > Bluetooth to forget the device and then go through the pairing process again.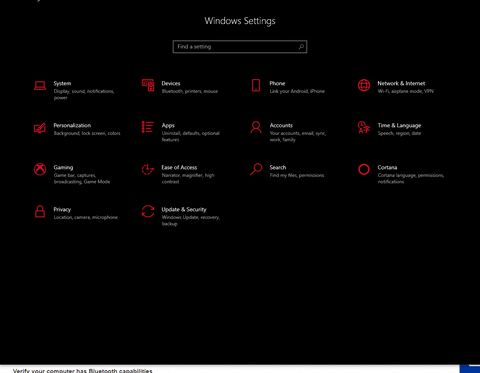 Troubleshooting
Verify your wireless device is Bluetooth capable
This might sound silly, but it's easy to mistakenly assume that a device has Bluetooth. Check the product specifications of your device—look for the Bluetooth logo on the packaging. If you can't find any reference to it, chances are it doesn't support Bluetooth and instead needs to be connected via Wi-Fi or cable.
Clearing Power
Here in the Support department we love to find the super simple solutions, and this one frequently resolves common Bluetooth issues. It's important to fully shut down the system AND remove all power. Let the system sit for a few minutes without any power, then plug it back in, boot the system back into Windows, and attempt to reproduce any Bluetooth issues.
Verify your computer has Bluetooth capabilities
The simplest way to determine this would be to navigate to your Puget Profile by clicking HERE. Select your order number from the list, make sure you are on the 'Details' page and scroll down until you see this:
Enable Bluetooth
Your system won't necessarily have Bluetooth enabled by default.
On Windows 10, press Window key + A to open the Action Center. Ensure that the Bluetooth tile is highlighted and on. If it isn't, click on the tile to enable it. If you don't see the Bluetooth tile, click Expand. While you're here, double check that Flight mode is disabled because this turns Bluetooth off.
Alternatively, press Windows key + I to open Settings and go to Devices > Bluetooth & other devices and slide Bluetooth to On.
Make sure the device is turned on
Before you start trying to pair your Bluetooth device to your computer, turn the device on. Most Bluetooth devices run on batteries to keep them wireless. If the device doesn't turn on, try plugging it in to charge the battery or putting new batteries in.
Set to Discoverable
When pairing Bluetooth with your computer, both devices need to be discoverable. Many speakers and simpler devices are always discoverable, but your computer may not be. If you are running Windows 10 and have Bluetooth enabled, then you should be in good shape. If you are having issues, go to Settings > Device > Bluetooth and click "more Bluetooth options." On this window, you can select the option to make your PC discoverable.
Update Drivers
Windows comes with generic drivers for Bluetooth, but they may cause your connected devices to work poorly or not at all. If you are having issues with multiple Bluetooth devices, check for an update to your drivers. Go to Settings > Device > Bluetooth and select the Drivers tab to see if you have updates available. Right click your Bluetooth device from the list and click 'Update Driver'.
Check Proximity
Bluetooth is a short-range technology. Devices need to be close to each other, in the same room helps tremendously especially when first connecting. If a speaker is crackling or your computer can't see a device, check that they are in the same room or try moving them even closer even if just as a diagnostic step.
Check for Windows updates
It is wise to keep Windows up to date for a litany of reasons but when connecting new devices occasionally Windows will offer an update to the device which might allow or improve performance.
Disable other Bluetooth devices
This is a last ditch effort in diagnostics. Typically you will not need to disable other Bluetooth devices but it's possible they are causing interference when pairing a new device. Even if you only disable during the pairing steps and then enable once connected, it's a worthwhile step to take.
– And finally –
Run Bluetooth troubleshooter – Hey, sometimes it works
Microsoft has included a tool for identifying problems throughout the OS and with a number of devices, this includes a Bluetooth troubleshooter. The tool will detect AND attempt to repair any problems preventing full function.
Press Windows+I to open Settings and then navigate to 'Update&Security>Troubleshoot>Bluetooth>Run the troubleshooter' – Follow the on-screen instructions and let it detect and fix any problems it may find.
Conclusion
Most Bluetooth devices are straight forward and simple to connect but you're here reading this which means you had an issue. Restarting the device, your computer, making sure Bluetooth is enabled, setting all devices as discoverable, and running the troubleshooter are all great resources for solving connection issues. Let us know how you did in the Disqus below and happy connecting!
Need help with your Puget Systems PC?
If something is wrong with your Puget Systems PC. We are readily accessible, and our support team comes from a wide range of technological backgrounds to better assist you!
Looking for more support guides?
If you are looking for a solution to a problem you are having with your PC, we also have a number of other support guides that may be able to assist you with other issues.