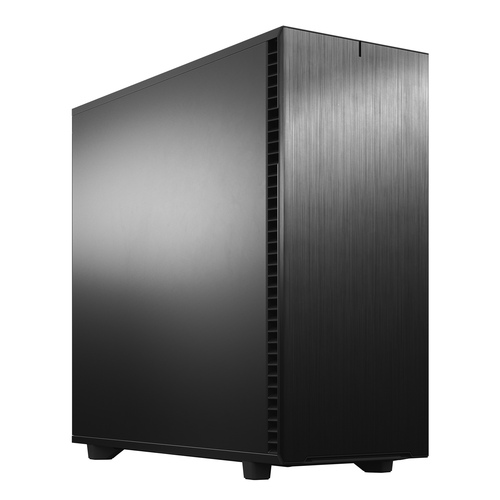 The Define 7 XL is a larger version of Fractal Design's popular Define chassis series. It is a very flexible design, built for EATX and SSI EEB motherboards, with plenty of space for boards that support dual CPU configurations and a host of other components. Noise dampening padding is installed on the front and side panel, as well as filters over the front and bottom air intakes.

Similar to other models in this family, the Define 7 XL has a flexible internal layout. However, the "floating" drive mounts are not secure enough for shipping - so the number of drives that can be installed is rather limited. We can support two 5.25-inch front drives, four 3.5-inch hard drives, and two more 2.5-inch SSDs; the 3.5-inch locations can also mount smaller SSDs if needed. If a long power supply is installed, though, it will block two of the 3.5-inch bays.

Three quiet 140mm fans are included, with room for several more. The front connections are located at the top of the case, directly above the front door, and include one USB-C, two each of USB 2.0 & 3.0 ports, and both headphone and mic plugs.

William George (Product Development SME) Says:
If you are aiming to have a lot of 3.5-inch hard drives (or even 2.5-inch SSDs) in this chassis, be aware that power supplies longer than 200mm will block use of two internal drive bays. Almost all 1600W power supplies are impacted by this, as well as some lower wattage models (depending on the brand and model).
Note: Dimensions: 22.3" H x 9.4" W x 23.8" D
Model: Fractal Design FD-C-DEF7X-01
Specifications
Color
Black
Material
Aluminum and plastic front panel, steel frame
Type/Size
Full Tower
Maximum Motherboard Size
SSI EEB
Case Window
No

Dimensions

Height
566 mm (22.3 in)
Width
240 mm (9.4 in)
Depth
604 mm (23.8 in)
Net Weight
16.53 kg (36.4 lbs)
Maximum CPU Cooler Height
185mm
Maximum GPU Length
360mm
Maximum PSU Length
250mm

Drive Bays

External 5.25 inch
2
External 3.5 inch
0
Internal 2.5 inch
2
Internal 2.5/3.5 inch
4*

Front Panel Connectors

USB 2.0
2
USB 3.0
2
Audio In
1
Audio Out
1
USB-C
1

Cooling System

Cooling Method
Air
Included Fans
3 140mm Fractal GP-14
Total Fan Mounts
9
Warranty
2 Years