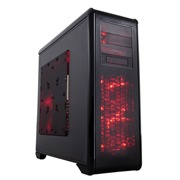 The Rosewill Blackhawk Ultra is a massive tower chassis, one of the few capable of accommodating 4-CPU motherboards (with some modification required). It comes with a wide range of fans, some of which have red glowing LEDs, but in most of the systems where we use it here at Puget Systems we remove the stock fans and replace them with models that are higher-quality, non-lit, and ramp speed based on system temperatures.

The case has several USB 2.0 and 3.0 ports on the top, along with an area where a bare hard drive can slide in to connect with the computer. This is a very convenient way to connect a drive, but not all motherboards will be able to accommodate the full set of connections available on the front of the case.

Houston Bennett (Social Media & Community Manager) Says:
We use this chassis for our quad CPU builds. I've built in this case a couple times and can say that it's great for what we use it for. Something to be aware of though, this thing really is MASSIVE. Like, probably won't fit on your desk big. We do a fair bit of modification to it to get the Supermicro X10QBL-4CT to fit but, for the effort, you get a powerhouse system that would normally have to be stored in a rack.
Note: We have designed custom shipping materials for this case. Specially made foam and boxes provide superior protection during shipping! Click here for more details.
Model: Rosewill BLACKHAWK-ULTRA
Specifications
Color
Black
Material
Plastic shell, steel frame
Type/Size
Full Tower
Maximum Motherboard Size
HPTX
Case Window
No
Power Supply
None

Dimensions

Height
635 mm (25.0 in)
Width
240 mm (9.4 in)
Depth
660 mm (26.0 in)
Net Weight
16.6 kg (36.6 lbs)
Maximum GPU Length
433

Drive Bays

External 5.25 inch
4
Internal 2.5/3.5 inch
10

Front Panel Connectors

USB 2.0
4
USB 3.0
2
Audio In
1
Audio Out
1

Cooling System

Cooling Method
Air
Included Fans
2x Front 120mm Red LED, 2x Middle 120mm Red LED, 2x Top 230mm Red LED, Side 230mm, Rear 120mm
Total Fan Mounts
Top can be changed to 3x 120/140mm, Side can be changed to 9x 120mm
Warranty
1 Year