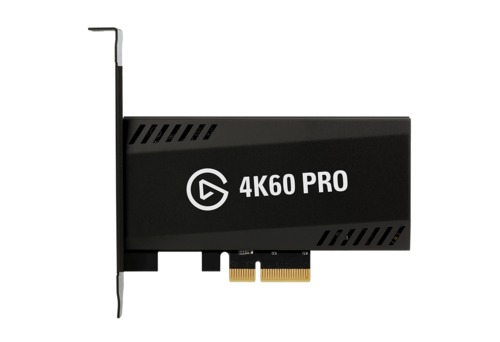 The Elgato 4K60 Pro is a HDMI capture card. It works by sitting between the video source and the monitor or TV to which it is displaying - so it has HDMI input and output ports for those two connections. It can both record and pass through video at up to 4K and 60fps (sometimes shortened to 2160p60). Elgato includes their own software, but this card also works well with popular applications like Open Broadcaster Software (OBS) and XSplit.

William George (Product Development SME) Says:
This card can both capture and pass through a HDMI signal with up to 4K resolution, but recording at high resolutions and high frame rates needs a powerful video card as well. Systems without a dedicated, high-end NVIDIA graphics card will be limited in this regard. With a Core i9 10900K, for example, I found that 4K at 30fps was doable but trying to push 60fps resulted in a lot of dropped frames. 1080P should be doable at 60fps, though, at least with a decent processor.
Model: Elgato 4K60 Pro MK.2
Specifications
Card Specifications

Manufacturer
Elgato
Number of Ports
2
Port Location(s)
External
Motherboard Connection
PCI Express x4
Interface
PCI Express 2.0 x4
Form Factor
Low/Full Height

Dimensions

Height
56 mm (2.2 in)
Width
14 mm (0.6 in)
Depth
122 mm (4.8 in)
Net Weight
0.102 kg (0.2 lbs)
Features
Game capture card
Allows you to capture 4K HDR10 content at 60 fps.

Compatible with most streaming software
Use this game capture card with most broadcasting software, such as OBS, XSplit and more.

Instant Gameview
Powers your workflow with ultra-low-latency technology.

High pass-through
Provides 240Hz pass-through on your dual-PC setup, which allows you to simultaneously capture video in multiple apps.

Local recording
Record unlimited 4K HDR10 footage directly to your hard drive. In addition, you can use flashback recording to save video retroactively.

Tune your stream
Add and fine-tune your voice with Live Commentary.

HDMI input and output
Helps stream and record from your device with ease.

System requirements
Windows 10 (64-bit); 6th-generation Intel Core i7 CPU (i7-6xxx)/AMD Ryzen 7 (or better); NVIDIA GeForce GTX 10xx (or better); PCIe x4/x8/x16 slot; Internet connection.
Warranty
2 Years