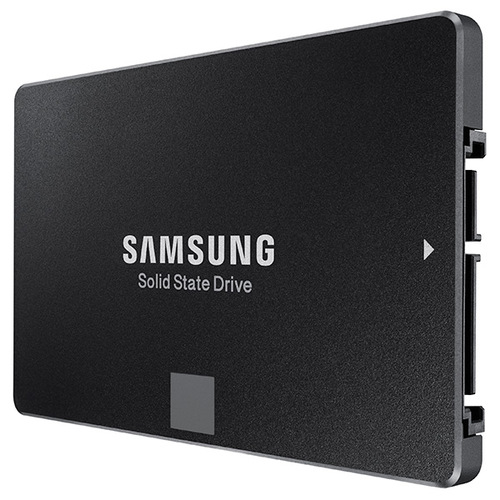 Samsung's line of solid-state drives are among the fastest SSDs on the market. The 850 EVO series represents their middle tier of drives, but has been updated with Samsung's new 3D NAND memory technology for improved performance, efficiency, and longevity. These drives still use the standard SATA 6Gbps interface which provides for high speeds and input / output operations per second (IOPS).

It is worth noting that SSD performance increases with larger size drives. This 1TB model is somewhat faster than the smaller sizes, and more cost effective.
Model: Samsung MZ-75E1T0B/AM
Specifications
Capacity
1000 GB
Interface
SATA 6 Gb/s
Form Factor
2.5 Inch
Idle Noise
0 dB
Seek Noise
0 dB
Command Queueing
NCQ
Endurance (TBW)
150 TBW
Peak Power Draw
4.0W Watts

Performance

Sequential Read
Up to 540 MB/s
Sequential Write
Up to 520 MB/s
Random 4KB Read
Up to 98,000 IOPS
Random 4KB Write
Up to 90,000 IOPS
Features
3D V-NAND Technology Samsung's innovative 3D V-NAND flash memory architecture breaks through density, performance, and endurance limitations of today's conventional planar NAND architecture. Samsung 3D V-NAND stacks 32 cell layers vertically resulting in higher density and better performance utilizing a smaller footprint.
Incredible Read/Write Speeds Achieve incredible read/write performance to maximize your everyday computing experience with Samsung's TurboWrite technology. You can obtain up to 1.9x faster performance than the award-winning Samsung 840 EVO. The 850 EVO delivers class-leading performance* in sequential read (540MB/s) and write (520MB/s) speeds. Plus, gain optimized random performance in all QD for better real-world performance. * Performance compared to 3-Bit MLC-class SSD drives
Guaranteed Endurance and reliability The 850 EVO doubles the endurance* and reliability** compared to the previous generation 840 EVO** and features a class-leading*** 5 year warranty. With enhanced long-term reliability, the 850 EVO assures longterm dependable performance of up to 30% longer than the previous generation 840 EVO. * Measured by Terrabytes Written (TBW) ** Measured with Sustained Performance 12hr Random Write Test *** Highest among 3-Bit MLC-class SSD drives
Improved Energy Efficiency The 850 EVO delivers significantly longer battery life on your notebook* with a controller designed and optimized for 3D V-NAND that supports Device Sleep for Windows at a highly efficient 2mW. The 850 EVO supports 25% better power efficiency than the 840 EVO during write operations thanks to ultra-efficient 3D V-NAND only consuming half the energy than that of traditional Planar 2D NAND. * Compared to standard hard drive & previous generation SSDs
Dynamic Thermal Guard Protection The 850 EVO's Dynamic Thermal Guard constantly monitors and maintains ideal temperatures for the drive to operate in optimal conditions to ensure the integrity of your data. The Thermal Guard automatically throttles temperatures down when temperatures rise above optimal critical threshold. This protects your data while maintaining responsiveness to help ensure your computer is always safe from overheating.
End-to-end Integration Solution Samsung is the only brand to design and manufacture all its components inhouse allowing complete optimized integration. The result - the rock-solid EVO 850, with enhanced performance, lower power consumption with an up to 1 GB LPDDR2 DRAM cache memory and improved energy-efficiency with the MEX/MGX controller - all from the #1 memory manufacturer in the world.
Warranty
5 Year or 150 TBW