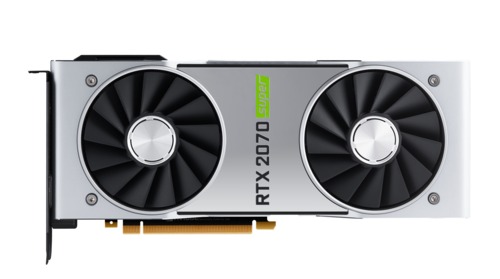 NVIDIA's GeForce RTX 2070 SUPER is part of the second wave of graphics cards based on the Turing GPU architecture. This mid-generation release increases performance substantially over the vanilla RTX 2070, with performance closer to the RTX 2080 at a much lower price point. Like all RTX cards, this model includes dedicated RT cores for ray tracing and Tensor cores for machine learning inference. This specialized hardware enables new functionality in games and GPU-accelerated applications, but will require such programs to be written specifically to utilize them in order to see much benefit.

As with the previous RTX cards directly from NVIDIA, this "Founders Edition" card uses a dual-fan cooling layout. This is great for keeping a single card running cool and quiet, but results in most of the heat the card generates being pumped back into the computer. That makes these a poor choice for use in multi-GPU systems, especially in configurations where there will be no space between each card. In those cases, a video card with a blower-style fan and rear heat exhaust will be much better.

Finally, in regards to connectivity, the RTX 2070 SUPER supports up to four monitors. HDMI 2.0b and three DisplayPort 1.4. VirtualLink - a specialized Type C port combining DisplayPort, USB 3.1, and power - is also included, for single-cable connectivity to next-generation VR headsets.
Model: NVIDIA 9001G1802515000
Specifications