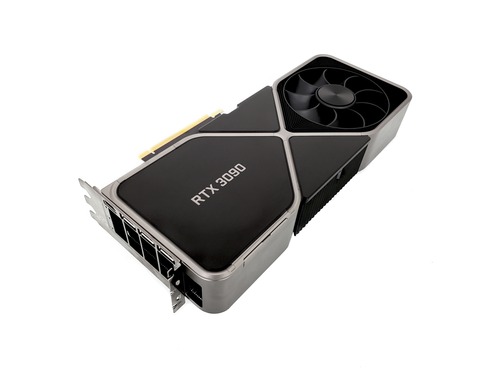 NVIDIA's GeForce RTX 3090 is one of the first consumer graphics card based on the Ampere architecture, which in turn is the second generation of NVIDIA GPUs to offer hardware raytracing and other advanced features under their RTX branding. The performance increase this video card brings varies greatly depending on workflow, with the biggest improvements coming in areas like 3D rendering, video editing, and game engines. Compared to the previous 20 Series models,
the RTX 3090 can be more than twice as fast in some applications
- but not every program or game will see that much gain. In contrast, compared to the less expensive RTX 3080, most users would gain a 10-20% boost - along with 140% more VRAM, which can make a much bigger difference in many real-world situations.
This variant, directly from NVIDIA, uses a unique dual-fan cooling layout. It is a great design for keeping a single card running cool and quiet, venting some heat out the back of the computer while circulating the rest upward within the case. However, it puts off a lot of heat and is wider than traditional cards - so this version is a poor choice for use in multi-GPU systems. If you want to run two or more cards, using models with a blower-style fan and rear heat exhaust would be much better.
Finally, in regards to connectivity, there are one HDMI 2.1 and three DisplayPort 1.4a plugs supporting a total of up to four displays at a maximum resolution of 7680x4320 (8K).
Model: NVIDIA 9001G1362510000
Specifications