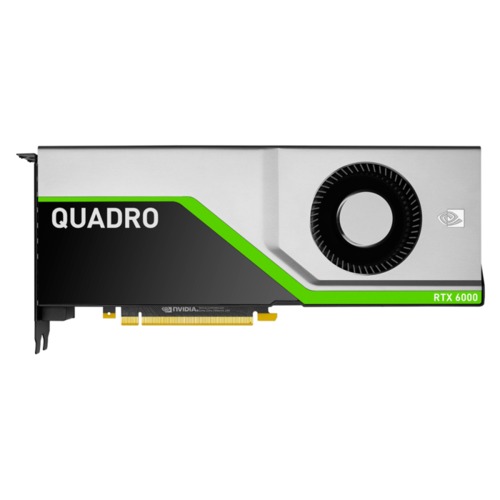 The NVIDIA Quadro RTX 6000 is the first Turing-based Quadro card, offering the best single card performance available in this generation. Because of the Turing architecture it also gains specialized ray tracing and machine learning inference hardware as well: RT cores and Tensor cores, respectively. The more expensive Quadro RTX 8000 is effectively the same card but with double the already massive 24GB of VRAM this model has. As with most Quadros, the single-fan cooler on this card is ideally suited for use in multi-GPU systems.

In addition to extreme performance for professional 3D applications, the Quadro RTX 6000 also supports up to four monitors at the same time. It sports four DisplayPort connections, along with VirtualLink - a specialized Type C port combining DisplayPort, USB 3.1, and power for single-cable connectivity to next-generation VR headsets. Using that counts toward the limit of four simultaneous outputs.

William George (Product Development SME) Says:
This graphics card is very similar to the NVIDIA Titan RTX in specs, with the same CUDA and RT core counts as well as onboard memory capacity (24GB). The RTX 6000 does have ECC protection on the memory, which is handy, and being in the Quadro line means it may have more specialized drivers and better support for certain high-end applications. The biggest practical difference, though, is the cooling: this card has a fan layout that works great with multiple GPUs in a single workstation or rackmount chassis, while the Titan RTX has a dual-fan design that limits it to use as an individual card.
Model: NVIDIA VCQRTX6000-PB
Specifications
Chipset Manufacturer
NVIDIA
Product Line
Quadro
Motherboard Connection
PCI Express 3.0 x16
Maximum Digital Resolution
7680x4320
Maximum DisplayPort Resolution
7680x4320
Maximum DVI Resolution
1920x1200
Maximum Monitors Supported
4
HDCP Compliant
Yes
Multi-GPU Technology
NVLink (Quadro RTX)

GPU Specifications

Stream Processors
4608
Tensor Cores
576

Memory Specifications

Video Memory
24GB
Memory Type
GDDR6 ECC
Bandwidth
624 GB/s

Performance

Single Precision Floating Point (Peak)
16.3 Tflops
Half Precision Floating Point (Peak)
32.6 Tflops

Additional Information

Cooling System
Blower Type
DirectX Support
DirectX 12
CUDA Support
6.5
OpenGL Support
4.5
Removable Backplate
No
Slot Width
2

Outputs

Port 1
USB Type-C
Port 2
DisplayPort
Port 3
DisplayPort
Port 4
DisplayPort
Port 5
DisplayPort

Power Connectors

Plug 1
8-pin PCI-E
Plug 2
6-pin PCI-E

Dimensions

Length
267 mm (10.5 in)
Height
112 mm (4.4 in)
Width
42 mm (1.7 in)
Warranty
3 Years