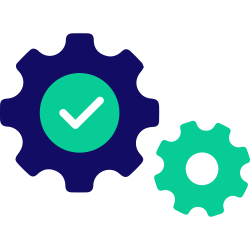 We make reliability one of our highest goals here at Puget Systems. Not only are failed parts costly for us to replace, but they are also very frustrating for you! That hurts our reputation, which is even more costly than the part replacement. To make sure we are minimizing component failures, one of the biggest things we can do is make sure our entire product line is high quality and not prone to failure.
All components in our product line are reviewed weekly. Any trends in failure rates are acted upon immediately, leaving us with a highly reliable product line that continues to improve. We make sure we do not add a part to our product line unless we feel we can stand behind it. This results in a high quality product, that works as it should. You can feel confident that any selection you make on our website is a quality product.
Real Sample of Data We Use
As an example, here is a sample real data taken from our records in March 2021:
| Part (Brand & Model) | Sold | Failed | Failure Rate |
| --- | --- | --- | --- |
| MSI MAG B550M MORTAR WIFI | 104 | 6 | 5.77% |
| GIGABYTE B550 VISION D | 160 | 3 | 1.88% |
| ASUS TUF B550M-PLUS (WI-FI) | 32 | 0 | 0% |
Failure rate of motherboards using the B550 chipset from September 2020 to March 2021
Acting on this data, we quickly pivoted our Micro ATX AMD Ryzen based workstations from using the MSI MAG B550M MORTAR motherboard to the ASUS TUF B550M-PLUS model. Granted, we hadn't sold as many of the ASUS yet – but having almost 6% of the MSI boards fail during assembly (none of them were field failures) was enough to raise a red flag for us, especially compared with the much lower failure rate of the larger GIGABYTE B550 VISION D. We already had the ASUS qualified as a backup, too, so the transition was simple and should result in more reliable systems for our customers. The solutions aren't always as simple as this, and there are often more variables to consider, but this is a great example of how these records give us hard data on how to continually improve.
Unlike big box computer manufacturers, we're small enough to react quickly to any changes that we see in reliability. Our size allows us to be much more nimble, and we qualify multiple product line options, so that we can pivot easily when the need arises. We feel strongly that Puget Systems is in the perfect position: we are large enough to keep good statistical data while also agile enough to act on it quickly. That is a rare ability!
Read what our customers have to say about our highly reliable product line!
---
Lincoln Durham
Maynard
Beast of a Machine
Amazing build and amazing customer service and support. I will be using Puget for all of my render machine needs.
John Prendergast
Vancouver, BC
Best Machine To Date
Ordered my MTX machine a little while ago and finally got to put it thru the paces. Loving it, not only did it cut my work time down by 3/4 but it also didn't come loaded with a bunch of 3rd party junk that is a pain to uninstall. My new desktop is just the right size to fit my space, does everything I want and more all while looking simple and purposeful.
Nathan did a few assessments with me as we made sure we got the right machine and case for my needs. He was super patient and professional with me. He was not pushy or eager when I told him I needed some time to think about it, as it was high in my price range. But when I got back to him a week or so later he was up to speed and had my quote set up. Everything about the specs and payment was super easy and straightforward.
A week later I was getting pics and benchmarks of my machine being built, it was delivered on time and in great packaging. Setup was seamless and easy. Not only did Puget send a great start up guide by email but once my system was running there is more set up guide e-booklets already pre-installed and ready for easy access. Creative cloud was also pre installed and with a little bit of money spent on cables I have the best Editing computer I've ever owned. There was no lack of high speed ports or documentation to know which ports have which speed limitations.
Thanks so much Puget Systems ! I will not hesitate to refer you to anyone I know. And thanks to Dustin @smartereveryday for the great tour that gave me the inside view on such a competent company !
Alexis Keenan Gist
Lafayette
Wonderful Service
My old iMac died sooner than expected so I reached out to Puget Systems after learning about them through School of Motion. I was very appreciative of their help. They answered all my questions and did so in a non-condescending manor, which I really appreciated. They helped me to select a machine that would support me in my current work, but would also be able to keep up while I grew in my industry and tackled larger and more complex projects. I also really appreciated the build updates that came through and how quickly they were able to put together my new system. They also offered advice on additional accessories such as monitors and speakers.
Through the whole process I felt confident and supported. My system arrived safe and sound over the weekend and I'm now up and running without issue and rigging up some characters as we speak.
Alan Simonson
Columbia, MD
Loyal Customer
I have purchased two systems now from Puget, and both are fantastic. Customer service from everyone involved in the process has been outstanding. Their expertise and recommendations are invaluable when designing a new system. I'll definitely be coming back when needed.
Michael Placzkiewicz
Holland
Perfect System
I needed to upgrade my CAD workstation and all the prebuilt systems were not what I was looking for. Puget gave me a base system based on my preferences and allowed me to change the main components to my needs. This was extremely helpful and the system is exactly what I needed. Great company, building great systems.
Norris Feury
Seattle
Makes me feel like I built it myself, except for no problems
Purchased my last 4 systems since 2009, three gaming machines and one server, between then and 2023, my latest. I used to build my own systems, but got lazy and sick of issues. With Puget Systems, I'm picking the build, but they are doing all the work, plus warrantying it all. I've actually never had to contact them for warranty support – they have been absolutely solid. I have had several pre-purchase conversations and they are extremely helpful. Highly recommend!
Sean Scott
Fullerton
Surprisingly Incredible Service!
Having purchased many computers, and having some custom built for me, I can say the customer service at Puget Systems exceeds all the others. From Nathan calling and helping me choose the best configuration, to the email and online build progress updates, the process was reassuring that I had picked the right company for my next rig. I highly recommend them!
John Weeks
Great new computer!
Received my new computer from Puget Systems. It's great! The sales staff at Puget Systems is excellent – If there's anything better than their sales staff it's their tech support!
Gordon Sims
Puget Systems Creator PC
Good website to price and build options. Follow up from the expert staff was excellent and improved my order. PC was built, tested and shipped quickly. The shipment included a comprehensive manual, extra cables and hardware. It made it very easy to install two SSD's and graphics card from my old PC. It made the dreaded process of buying a new system painless and easy.
This is my second PC from Puget Systems and I couldn't be happier. The quality of the build makes it worth the price!
Read more testimonials from Puget Systems clients.