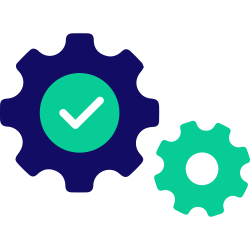 We make reliability one of our highest goals here at Puget Systems. Not only are failed parts costly for us to replace, but they are also very frustrating for you! That hurts our reputation, which is even more costly than the part replacement. To make sure we are minimizing component failures, one of the biggest things we can do is make sure our entire product line is high quality and not prone to failure.
All components in our product line are reviewed weekly. Any trends in failure rates are acted upon immediately, leaving us with a highly reliable product line that continues to improve. We make sure we do not add a part to our product line unless we feel we can stand behind it. This results in a high quality product, that works as it should. You can feel confident that any selection you make on our website is a quality product.
Real Sample of Data We Use
As an example, here is a sample real data taken from our records in March 2021:
| Part (Brand & Model) | Sold | Failed | Failure Rate |
| --- | --- | --- | --- |
| MSI MAG B550M MORTAR WIFI | 104 | 6 | 5.77% |
| GIGABYTE B550 VISION D | 160 | 3 | 1.88% |
| ASUS TUF B550M-PLUS (WI-FI) | 32 | 0 | 0% |
Failure rate of motherboards using the B550 chipset from September 2020 to March 2021
Acting on this data, we quickly pivoted our Micro ATX AMD Ryzen based workstations from using the MSI MAG B550M MORTAR motherboard to the ASUS TUF B550M-PLUS model. Granted, we hadn't sold as many of the ASUS yet – but having almost 6% of the MSI boards fail during assembly (none of them were field failures) was enough to raise a red flag for us, especially compared with the much lower failure rate of the larger GIGABYTE B550 VISION D. We already had the ASUS qualified as a backup, too, so the transition was simple and should result in more reliable systems for our customers. The solutions aren't always as simple as this, and there are often more variables to consider, but this is a great example of how these records give us hard data on how to continually improve.
Unlike big box computer manufacturers, we're small enough to react quickly to any changes that we see in reliability. Our size allows us to be much more nimble, and we qualify multiple product line options, so that we can pivot easily when the need arises. We feel strongly that Puget Systems is in the perfect position: we are large enough to keep good statistical data while also agile enough to act on it quickly. That is a rare ability!
Read what our customers have to say about our highly reliable product line!
---
Daniel Shuster
Old Saybrook, CT
Legacy Testimonial: 1303
I have a 2016 Obsidian and throughout these eight years the tech team has been stellar in responding with my calls. Their hand off to each other is flawless and they are extremely competent and gracious. These are the kind of people we all dream of working with. The Obsidian still works great and my next computer (for Windows 11) will be from Puget Systems.
William
Legacy Testimonial: 1302
The only SI to use. They are very professional, quick, and keep you informed of everything during the order. Cannot recommend highly enough. Really fantastic machines.
Charles
Legacy Testimonial: 1300
After an accident which resulted it the loss of my data on one of my drives during repair, the fine folks at Puget Systems went above and beyond to rectify the situation. They really do care about customer service and retention. Even though I had lost considerable data they graciously compensated me with upgrades to my system that allowed me to get back to work better and faster than before.
Bob Wills
PUYALLUP
Legacy Testimonial: 1299
I have set up my new Creative Cloud Desktop, and I am especially happy with the ease that Nathan guided me through installation of the 10GB NIC. Working perfectly. With an abundance of RAM-128GB, it is extremely fast. I set up the system from a saved back-up in One Drive and it all went smoother than any previous new PC setup. I am a lifelong fan of this great company.
Clay Carson
Legacy Testimonial: 1298
These guys are phenomenal in every way. Puget is incredibly helpful and everyone seems to have insight as to how things work and they provide solutions to any computer problem. I recommend Puget to all my friends and co-workers.
Forrest Barbee
Des Moines, IA but permanently reside in Lake Las
Legacy Testimonial: 1297
I am thoroughly enjoying the experience of working on my new custom Puget Systems computer. It feels like I went from a Smart Car to a Ferrari – or from a sailing boat to a mega yacht! OMG! I should have ordered this a long time ago, but it's just amazing. You and your team are incredible! This is so far beyond anything I could have hoped for. I remain most appreciative and cannot thank you and the team enough for what you do everyday for folks like me.
Jon Bach has always had an amazing vision for Puget Systems mission that few other high tech executives have these days. It was fascinating to watch each update and totally immerse myself in the entire process from collecting the necessary parts to installation and testing, then quality control and shipping.
Once received, I matched it the 32″ BenQ monitors, sat back in my Secret Labs Dark Knight gaming chair – and enjoyed the ride!
Again, I just can't thank you and the Puget team enough for this unbelievable experience!! And it truly is a TEAM!
Lynn Nicholson
Legacy Testimonial: 1296
Puget built the perfect system specifically for my extensive use of Adobe Lightroom Classic. 350,000+ captures in the LR catalog, all with previews. I've never seen and used such an amazing build. Extremely fast and quiet! During the initial parts selection, all questions were answered promptly and thoroughly, and I was advised based on my requirements/needs. During the assembly process. I was appraised of each step along the way…. After assembly, extensive testing took place, including thermal imaging…. All this, and I actually received the computer ahead of schedule! First rate packaging, and even spares, including a couple of special requests for prewired tie-offs for installing a couple of prepared drives… After arrival, programs and drives were installed and 24 hours later, I was 80% up to speed…. 48 hours later, 95%. Smoothest migration/transition I've ever experience, all thanks to an outstanding build. Thank you to the whole team, and special thanks to Eli and Nathan for one on one assistance. Who could ask for more?
David Weiner
Lynnwood, WA
Legacy Testimonial: 1295
I bought my first PC from the Seattle IBM Product Center in 1980. When I contacted Geno Rosario at Puget Systems in July 2021 about buying a new PC, I confidently outlined what I wanted. While keeping in mind the spirit of my build request, Geno correctly pointed out some misconceptions I had about CPU's. Some of my component choices (i.e. a huge case and a very large power supply) were probably overkill, but Geno remained focused on the important issues instead of quibbling over details that did not really matter. I ended up with a fantastic computer that has worked flawlessly for the past ten months. Geno Rosario and Puget Systems have my unqualified recommendation.
Monique Velasquez
Triangle NC
Legacy Testimonial: 1294
I have not ever used PC or windows for my own company. I have used them at different facilities where I have worked. I knew nothing about ordering what I needed to do the work I wanted to do. I called for help and the services was exceptional, easy and friendly. They didn't talk down to me as a women or for not knowing the tech specifics I wanted.
I was able to get the machine ordered and delivered in a timely manner.
Once I received the delivery I was presently surprised that the packaging and paperwork was more than helpful. This is really thought out.
I was thinking that I might not hear from PS after the sale but I was wrong. I am glad to sing their praises. I am a fan.
Andrew
Legacy Testimonial: 1293
Best computer I've ever owned…by far. Personalized service and zero pressure.
Read more testimonials from Puget Systems clients.