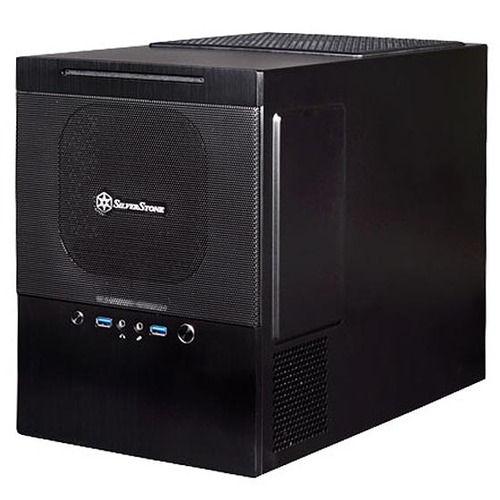 The Silverstone SG10 chassis is an extremely compact tower, measuring less than 12" tall and 14" deep. Despite those small dimensions, it is able to pack a MicroATX motherboard, ATX power supply, full length expansion cards, large CPU cooler, and multiple drives inside. There are some trade-offs required to keep the height to a minimum, though: there are no front 5.25" or 3.5" drive bays, and the optical drive options are limited to slot-loading drives only.

William George (Product Development SME) Says:
This is one of the newest compact cases in Silverstone's SUGO line, and while it is a little taller than my beloved SG01 it solves a lot of the issues that case had. Being able to use tall CPU coolers is a huge improvement, for example, since it helps reduce noise and allows use of higher-wattage CPUs. It also looks better in person than in pictures, in my opinion.

John D. (Research and Development Engineer) Says:
The Silverstone SG10 is a pretty decent solution to get full-size power in a smaller package. It takes full ATX power supplies and has ample space for large tower-style CPU coolers, meaning high-power CPUs can be used without issue. The Micro-ATX form factor even makes SLI an option, and all while taking up significantly less space than a standard mid-tower chassis. The compromise to get all this in a small box is drive options. Optical drives are only supported in slim slot-load format, and SSD/HDD mounting is limited but generally sufficient. Overall, the SG10 is a big step up in both functionality and aesthetics compared to older compact-form offerings like the SG01.

Lorin Stewart (Laser Technician) Says:
The Silverstone SG10 is quite a fantastic small form factor case that fits many needs. Having built many systems in this chassis I have come to appreciate the design and size that come together neatly for maximum use. What impresses me the most is how versatile this case can be for when we need a quiet configuration or we are building a system built for peak performance, and to add a cherry on top this case is incredibly light allowing it to be easily moved for events or when you want to re-arrange your den on a whim. All in all the SG10 is my favorite chassis that I have worked in.
Model: Silverstone SST-SG10B
Specifications
Color
Black
Material
Aluminum front panel, steel frame
Type/Size
Small Form Factor
Maximum Motherboard Size
MicroATX
Case Window
No

Dimensions

Height
295 mm (11.6 in)
Width
220 mm (8.7 in)
Depth
354 mm (13.9 in)
Net Weight
5.8 kg (12.8 lbs)
Maximum CPU Cooler Height
165mm
Maximum GPU Length
338mm
Maximum PSU Length
180mm

Drive Bays

External 5.25 inch
0
External 3.5 inch
0
Internal 3.5 inch
2
Internal 2.5 inch
4
Slim 5.25 inch
1

Front Panel Connectors

USB 3.0
2
Audio In
1
Audio Out
1

Cooling System

Cooling Method
Air
Included Fans
Rear 120mm, Top 180mm
Total Fan Mounts
Left side 2x 92/80mm, Left side 120/92mm, Right side 80mm
Warranty
1 Year