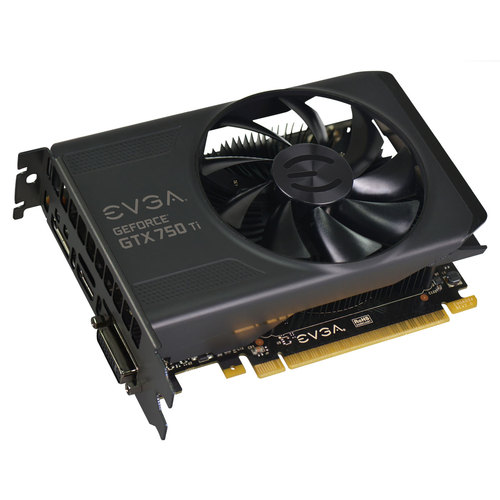 The NVIDIA GeForce GTX 750 Ti 2GB is a mid-range video card in the GeForce 700-series, and with its little brother (the 750 1GB) is one of the first cards built on the new 'Maxwell' GPU architecture. This advance provides higher performance with lower power usage compared to the preceding 'Kepler' design. The same 28nm manufacturing process is still used, though, and many features common to GeForce cards are included: CUDA, DX12, PhysX, NVIDIA Surround, and 3D Vision technology are all supported.

This version of the GTX 750 Ti, from EVGA, sports a single-fan cooling solution. For video outputs it provides one DVI, one HDMI, and one DisplayPort.

Ruben Romero (Tier 3 Quality Control SME) Says:
The GTX 750 Ti has a low enough TDP on the reference models that they can be powered by the PCI-E expansion slot on the motherboard and would not require supplemented power from a PSU. The performance is pretty much like a GTX 650 ti, which makes it great for small form factor or PSU limited systems.

John D. (Research and Development Engineer) Says:
I like this little card a lot. It won't compete with high-end cards like a GTX 770 or 780, but it offers good performance in a small package and doesn't require an additional power connection. The only thing that disappoints me is the lack of an SLI connector, which limits expandability.
Model: EVGA 02G-P4-3751-KR
Specifications
Warranty
3 Years