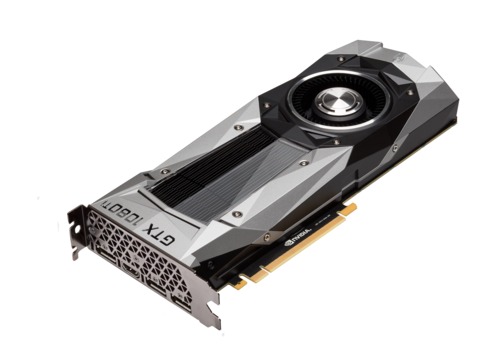 NVIDIA's GeForce GTX 1080 Ti represents a refresh to their new Pascal graphics card line. It improves upon the original GTX 1080 with both more graphics processors (CUDA cores) and additional video RAM. Those combine to provide a substantial boost in performance, with the GTX 1080 Ti about 30% faster than the GTX 1080 - and even a hair faster than the Titan X, though without quite as much onboard memory as that model.

In addition to its great speed and efficiency, the GTX 1080 Ti shares the under-the-hood improvements that all Pascal cards have for boosting virtual reality and multi-monitor performance. It is excellent at maintaining good frame-rates in games and VR experiences, even in graphics-laden titles and at high resolutions, and includes support for CUDA, DX12, and NVIDIA's 3D Vision technology. Finally, it supports up to 4 usable display outputs: one HDMI 2.0 and three DisplayPorts. The older DVI connection has been removed, which allows more room for the card to vent hot air.

William George (Product Development SME) Says:
The GTX 1080 Ti is the fastest video card for gaming, as of its launch in March 2017, and it should excel in other GPU accelerated applications as well. It is probably overkill for gaming at anything below 4K 60Hz or 1440P 120Hz, but if you want the best then this is it (until the next generation of GeForce cards come out, at least). It should also do very well in scientific computing with single precision (FP32) calculations.
Model: NVIDIA NVIDIA_FE_1080_TI
Specifications