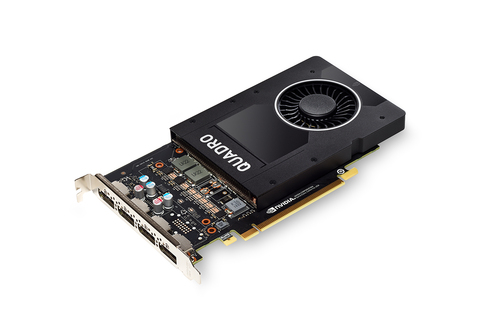 The NVIDIA Quadro P2000 is a mid-range, Pascal-based professional graphics card. It represents a solid upgrade from the previous M2000 model, with moderate speed increases in most areas and 25% more video memory. A wide range of standards are also supported by this card: DirectX 12, Vulkan, OpenGL 4.5, CUDA, and OpenCL (to name a few).

In addition to solid performance for professional 3D applications, the Quadro P2000 also supports higher resolution monitors than previous generations. It can run up to four 5K screens at the same time via DisplayPort 1.4 outputs. HDMI or DVI monitors can be connected through adapters, available for purchase separately, but when using such adapters the maximum resolution will be reduced substantially if not using an DP to HDMI 2.0 Active adapter.

William George (Product Development SME) Says:
This is a great mid-range Quadro card, which is ideal for applications which need a "professional grade" video card but don't require cutting-edge 3D performance. It also supports 10-bit color, so it is a great choice for Photoshop users with high-end, 10-bit capable monitors. If you don't fall into one of those categories, though, a GeForce card around the same price will give more raw 3D performance in most situations... or of course a more powerful Quadro model.

Jeff Stubbers (Tier 3 Consulting Lead) Says:
This is a great choice if you are looking for a mid-range 30-bit graphics card (10-bit per channel RGB) for most accurate colors when pairing with a 10-bit monitor. The manufacturer lists this card as supporting up to HDR 5120 x 2880 resolution @ 60Hz with each of its (4) DisplayPort 1.4 outputs.
Model: PNY VCQP2000-PB
Specifications
Warranty
3 Years