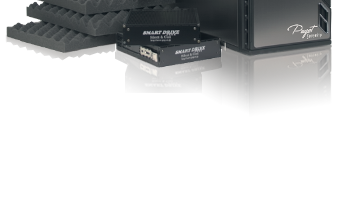 A powerful personal computer
optimized for quiet operation.
Serenity Media Coverage
This page details some of the more prominent media reviews and features that have been done.
Do you see a feature on Puget that is not in this list? !
---

Silent PC Review

http://www.silentpcreview.com
December 10, 2012
Quote: The Puget Serenity Pro SPCR Edition easily qualifies as a Certified Silent PC. The measured sound pressure level of 11.5 dBA@1m at idle and 15 dBA at full system load and 30°C room temperature is very impressive and unprecedented.

Read the full review here.

---

Silent PC Review

http://www.silentpcreview.com
November 10, 2011
Quote: The Puget Serenity Mini SPCR Edition is just as silent as the Serenity, SPCR Edition v.3. The measured sound pressure level of <11 dBA@1m at idle and not quite 13 dBA at full system load is at the same level as any fanless PC with no moving parts; the fanless PSU alone will emit enough electronic noise at full load to match this SPL.

Read the full review here.

---

PC Perspective

http://www.pcper.com
November 2, 2011
The Serenity HTPC wins an "Editors Choice" award!

Quote: If you are looking for a quiet system to add to your home theater, and don't need gaming as one of the features, then we would highly recommend looking to Puget Systems and their Serenity line of systems.

Read the full review here.

---

Maximum PC

http://www.maximumpc.com
August 3, 2011
Puget Systems earns a 9 out of 10 score with the Serenity Mini!

Quote: Is the Serenity Mini really that quiet? Yes. The rig is dead silent, which is more of a mind-bender than anything. You expect a system running at 4.5GHz to make some noise, but this is a black hole of silence.

Read the full review here.

---

G4 Attack of the Show

http://www.g4tv.com/attackoftheshow
April 6, 2011
Quote: One of the main reasons Puget Systems used this case is because they can make it practically silent, even when you're playing games and it's amazing how quiet it is. We even brought in a decibel meter just to see how loud it is; this is easily the quietest gaming PC we've ever reviewed. It's got a lot of padding in the case to make it quiet, and the fans spin slower than usual, but we didn't have any problems with overheating at all while we were playing.



Read the full review here.

---

CPU Magazine

http://www.computerpoweruser.com/DigitalEditions/Default.aspx
March 18, 2011
The Serenity Home Theater offers the best of all combinations for an HTPC; it's designed to fit in with your home-theater equipment, exceptionally quiet, and capable of playing back all kinds of media. Add a dual HDTV tuner and you've got yourself a complete entertainment center companion.

Read the full review here (page 33).

---

Tekzilla

http://revision3.com/tekzilla/
March 15, 2011
Puget Systems sent us one of their super quiet†Serenity custom HTPC builds for testing. Find out why Rob's so impressed by this machine (and its †Core i5 2500K CPU), and some advice on when to buy and when to build in the video!



Watch the full review here.

---

Mashable

http://www.mashable.com
February 19, 2011
Quote: Even when I transformed our Midwest Test Facility into a completely silent environment by shutting down everything that makes even the slightest noise, including the refrigerator and the heating system, I still could not hear a peep emanating from of this PC.

Read the full review here.

---

Anandtech

http://www.anandtech.com
February 10, 2011
Quote: Puget Systems clearly thought the Serenity from the ground up, and there's some careful consideration going on here to ensure the quietest system. This is a smart design if ever I've seen one, and you can't argue with results: Puget Systems set out to build a silent computer and they've achieved it. The Serenity runs, under load, quieter than most laptops I've tested run at idle. We can't test the noise level because it basically sits beneath the noise floor of my apartment complex and I just don't have gear sensitive enough to pick it up.

Read the full review here.

---

Silent PC Review

http://www.silentpcreview.com
January 17, 2011
Quote: The Puget Serenity i7 Sandy Bridge SPCR Edition extends the tradition established by the previous iterations of this PC. It is superbly assembled, provides better performance and draws less power than its predecessors, and remains extremely quiet in our test conditions.

Read the full review here.

---

FutureLooks

http://www.futurelooks.com
October 11, 2010
Quote: The Puget Systems Serenity system is an inaudible work of art with innovation attributed to their process for selecting a unique combination of components for the task.

Read the full review here.

---

CPU Magazine

http://www.computerpoweruser.com/DigitalEditions/Default.aspx
October 1, 2010
Quote: Puget, the builder makes sure that you know what was done step by step when building your custom PC. After we configured our Serenity Mini, Puget immediately began assembling it and provided us a Web link where we could track the system's progress in real time, including during the benchmarking process. And when the Serenity Mini was ready to be sent out, Puget sent us photos of the finished product.

Read the full review here (page 6).

---

Silent PC Review

http://www.silentpcreview.com
September 29, 2010
Quote: Our hats are off to the Puget development team for their pursuit of excellence. Puget's SPCR-certified Serenity PC is a truly well-crafted high performance computer at the cutting edge of silent computing.

Read the full review here.

---

TweakTown

http://www.tweaktown.com
August 25, 2010
Quote: We didn't have a decibel meter on-hand when we were testing the Serenity, but let's put it this way; even with the Serenity sitting at ear-level on top of a desk, any noise the machine might have made was drowned-out by the humming of a refrigerator down the hallway. This held true even when stressing the system with intensive gaming and encoding tasks.

Read the full review here.

---

PC Perspective

http://www.pcper.com
August 6, 2010
Quote: Puget came to us just a couple of weeks ago with another unique system. This time, rather than focus on raw performance, the engineering and design teams decided to make a gaming machine as quiet as possible using currently available components and a little elbow grease. Thus, the Serenity was born and with the help of the guys at Silent PC Review, we have a CrossFire based gaming rig that was was never audible over our ambient noise levels.



Watch and read the full review here.

---

This Week In Computer Hardware

http://twit.tv/twich
July 28, 2010


See their full podcast here.

---

Tekzilla

http://revision3.com/tekzilla/
July 2, 2010
Quote: Loyd Case is back! He has been reviewing the Puget Systems Serenity, a sub-20dB gaming machine. That is seriously quiet! More the DIY type? Loyd has the word on how to use components like the Gelid Tranquillo CPU cooler, the Antec P183 case and CP 850 PSU in concert with Acoustipak foam to build your own super quiet PC!



Watch the full review here.

---

Silent PC Review

http://www.silentpcreview.com
June 18, 2010
Quote: The Puget Serenity is a welcome addition to SPCR-certified silent PCs. It is a carefully crafted high performance computer that compares well with any other computer of similar components in mid-2010, with an acoustic footprint that is very small. The noise of this system will hardly be audible in many environments, and certainly not in any ordinary office. At the same time, the Serenity is as well cooled as any PC around, which bodes well for a long and stable usable life.

Read the full review here.

---

Boing Boing

http://gadgets.boingboing.net
January 7, 2010
Quote: On the outside, it's a classy, if nondescript Antec case. Inside, however, it's calmed with acoustic foam panels, dampened screws and other vibration-reducing handiwork. And while Puget's online configurator lets you change most components, it defaults to selections tested for quiet operation. The result is a pleasing murmur, if not complete silence...

Read the full review here.

---

Silent PC Review

http://www.silentpcreview.com
June 30, 2006
Quote: Once again, Puget Custom Computers has delivered an exceptionally quiet system — this time at a more reasonable price. As shipped, the system is as quiet as any system we've built on our own, and probably faster.

Read the full review here.

---
Read what our customers have to say about Puget Systems!
While reviews and awards from major publications are great, nothing speaks louder than the words of our customers.
---
"I started by looking at the different vendors of quiet systems as that was one of my primary reasons for swapping out my PC (apart from the fact the old one was getting on in years).
After looking around for a week or so, I decided to try Puget Systems. I spent over an hour in a chat session with Jeff going over the different possibilities, before deciding to get a customized Serenity.
Jeff made some recommendations, which I took and I placed my order. Estimated shipping time was a week later, so it was great to see the progress of the build on the website as well as the pictures once it was ready and of course the performance benchmarks (my only request would be to show some comparison benchmarks on this page to get an idea of what differences there might be. Maybe against some standard builds?).
The PC shipped as scheduled, and it finally arrived. Packing was excellent and surprised me with its size and everything that was in it. Finally got to plug it in, and that was a joy. Almost no noise at all and fast. It was a pleasure doing business with Puget Systems and will certainly use them for the next system when it is time. Great job!"
Piers Barrington [Send Email]
Rating: 10/10 Date: 05/06/13
---
"I just finished my review at ResellerRatings and wanted to add something to this website.

I have ordered 3 Puget Systems computers now. Over the past week I loaded software and prepared the latest one for use. Each computer had a different use but I was able to customize them. All continue to work flawlessly (and quietly). My first was a home theater PC which was packaged in a case that fit very well with home theater equipment right down to the black case with turned aluminum feet. WAF was quite high and remains that way. The computer is dead silent. Inside there is this huge fan mounted on the CPU heat sink that turns very slowly. No more 3rd rate Comcast DVR's for us now!

The second was a replacement for my wife's very old and outdated computer. As with the first one it is still running flawlessly and she is quite pleased with it. Her computer is located in her work room which is very quiet. Even in that quiet room I cannot hear her computer.

The third is a replacement for my own 9 year old computer. What a pleasure this one is. I was able to customize it with an i7 CPU, 16 GB of memory and an SSD for the system and applications. Even with the higher performance, this computer is silent.

I have found Puget Systems very easy to work with and I have found their products to be absolutely first rate.

Their website is very easy to use and gives real time feedback as you choose the customization. There is a rich selection of styles and components to allow one to configure a very low cost and basic system or a liquid cooled monster with the best CPU Intel makes that is being overclocked. When finished, you can submit the configuration to one of their experts who will look it over for you. In my case I was able to save about $130 because I didn't need to order a video board. Their expert recognized that the combination of my lower need for graphics and the built in graphics processing in the CPU I was getting made that possible. It does show that they are not just trying to sell the highest cost computer but will give advice with your need as a priority.

Their lifetime labor warranty is sort of unbelievable. I have used their phone support several times and in each case I was able to reach a knowledgeable person on the first call. That is a really valuable service. With my latest system I found that the computer didn't seem to support the very high resolution of my new monitor. I called Puget Systems support and told them that maybe I needed a new video card after all. The support person told me I was using a cable that didn't support the high resolution and that all I needed was a new cable.

In all three cases the computers were double boxed with foam spacers to give about a 2 inch space between inside and outside box. The outside box is made of very substantial multi-ply cardboard. The computers had no shipping issues. I was impressed as I looked over the inside of the computer. All cables were neatly dressed and tied down so that there would be no vibration. Each connecter had a small dab of hot glue on it to ensure nothing came loose during shipping. The computers came with the operating system of my choice already loaded. All I had to do was plug it in and it ran. After my own customization I ready to go.

after these three experiences I have learned to trust the people at Puget Systems. I trust both their business integrity and their technical competence."
Steve Waisner [Send Email]
Rating: 10/10 Date: 04/15/13
---
"I purchased two systems from Puget almost a year and a half ago. Having had them this long before submitting a testimonial lends to the authority of my statements going well beyond a first impression. Both systems had Win7 Pro 64-bit installed, the laptop with 8G ram and the Serenity desktop with 16G. I told them I would be installing additional drives in the Serenity and the build-team stubbed-out the cabling and recommended drive placement to maintain optimal airflow. These systems have been truly spectacular and have met my every expectation – everything I wanted and nothing I didn't! Performance and reliability continue to be a joy. I highly recommend going with Puget."
George Veo [Send Email]
Rating: 10/10 Date: 03/27/13
---
"I just want to say what a beautiful machine Puget has built for our latest workstation (the second one we have bought from them). It is the Serenity model with a pair of Intel 520 SSDs and 16GB ram. The computer is completely silent--the only way we can tell if its running is by looking for the blue light! It is unbelievably fast (boots win 7x64 to useability mode in under a minute), and a joy to sit before, what with the three 24" Dell Ultrasharp displays all driven by one silent GPU. Under the cover the workmanship is almost like art. I wish I had the money to replace everything in the house with one of these! Running for 3 months now with no problems.

Yes, it cost more, but if you want something quiet, you cannot get it from a Dell; and if you want something that is both quiet AND a good performer, then I think the extra money for Puget is well worth it. In fact, in hindsight now, the cost is a complete non-issue--thats how good this machine is.

PS. Thanks also to William G. for shepherding me through the custom ordering process"
Richard F [Send Email]
Rating: 10/10 Date: 03/06/13
---
"Puget Systems was the only company I could find who would actually provide me with exactly the computer I wanted. They really went that extra mile to accommodate my needs, including ordering a special keyboard for me. They responded very quickly to my queries, and were very helpful providing additional information about the computer I requested before placing the order. They delivered in a timely fashion, and there were no mistakes or delays of any kind. Puget Systems' service is truly excellent, and I would recommend them to anyone."
Ramin Honary [Send Email]
Rating: 10/10 Date: 02/24/13
---
"From the initial contact to my final specification two months later, William, my very patient sales rep took the time to ask questions & provide alternative options, to not only save me money, but make a system better tailored for my needs. It was as if I was the only customer he had. Emails were answered in a timely fashion, Typically within an half hour. Now that is what I call service.

When the computer arrived I was astounded by the packing job, All the documentation for the components & a bag of spare screws, cables, and other stuff that they did not use but I paid for were included. (will come in handy when I add a drive or two down the road) Plus all the software discs & performance test reports were included in a binder. Not to mention a nice thank you letter from the boss letting me know he appreciates my business. Very professional from start to finish. The machine booted right up & i was not bombarded with special offers & crap you get from the big makers.

I know where my next computer will come from now. Thanks Puget for a great job."
Warren Jones [Send Email]
Rating: 10/10 Date: 02/11/13
---
"I just rec'd my Deluge extreme gaming system and received it within 2 weeks of ordering--fantastic! It was cool checking the updates on the site every day as well, very nice feature.

As to performance, I have been busy just re downloading games from Steam, Blizzard so haven't had much chance to play but I did play Far Cry 3 at absolutely maxed out settings and it ran superbly. Very quiet, but heat was very low from what I was used to on my old PC and it was rock solid stable. I can't wait to play more of my favourites maxed out as soon as I can find the time

In terms of packaging, this was first class, everything thought of. As mentioned in other testimonials, it was overkill packaging that prevented anything from moving or getting damaged. Instructions were included for seemingly everything, including how to open the box properly. All parts and accessories were in neatly labelled bags so, for example, when I added my 3 sata drives yesterday, I easily found the package with the hard drive screws without any hassle. I love that kind of attention to detail. Another small thing, but the computer was absolutely spotless on all its surfaces, including the glass side window. No fingerprints, smudges or anything to indicate a human had put this together. This emphasizes the superb quality control and pride Puget has in their products and how the customer will react to that factor. Amazing!

A small word on customer service. I haven't really needed it except initially when I was configuring the system but Will was superb. He actually told me buy less expensive components on certain items as he thought it might be overkill for my uses. I took that to heart, but in the end splurged for the more expensive items anyway! But, how many times does a salesman every UNDERSELL you??? Hope he doesn't get in trouble for that--ha ha!

In summary, I am so glad a "local" company (I am in Vancouver Canada) provides this type of service and craftsmanship, and is backs there stuff up 1000%. Hopefully, I will never need troubleshooting or help with any issues, but I am very happy to know it is there, waiting for me, should I need to use it!

Great work Puget--keep it up! I am going to be a loyal customer for many years"
Vinesh Narayan [Send Email]
Rating: 10/10 Date: 01/22/13
---
"I received my Spirit system on January 3rd and it has been perfect since the moment it arrived. The shipping materials are very effective: PC in a box with packing, inside another box with custom packing corners so it is "suspended" in the outside box. Essentially two levels of protection for the trip. Unpacked everything, hooked it up to two Dell U2412m monitors that I picked up from Amazon and it worked perfectly. A couple of things of note... the Spirit case is very spacious and incredibly quiet. I had to go with it instead of the Serenity as that case was a little too tall for my desk. No worries, without a power light it would be hard to know that it is on. My build, which is listed below, is incredibly fast. USB III - cannot say enough - very much worth it if you have to move photos or videos between camera and PC. Windows 7 ultimate proved to be the right choice for me... I needed the ability to remote desktop into work and use a multi-monitor display on both ends. Windows supports this but only if the two sides are a combination of (windows ultimate, windows 7 enterprise or windows 8 server). Not sure why MS makes this so hard, but I am happy to report that if you meet their requirements, it works fine. My other concern was whether the GTX 650 was going to be sufficient for some gaming that I do on the machine. No issues at all running Assassins Creed III on a single monitor (haven't tried multi-monitor yet). On this front, I can also recommend the Saitek Eclipse II back lit keyboard and Mionix Naos 3200 gaming mouse (also lit). Set them all to blue with your Spirit and you have a very nice looking system. Overall I am incredibly pleased and have already recommended Puget to friends of mind who are considering a custom build.

Keith

Spirit Build
--------------
Motherboard Asus P8Z77-V Pro
CPU Intel Core i7 3770K 3.5GHz Quad Core 8MB 77W
Ram Kingston 16GB DDR3-1600 (2x8GB)
Video Card EVGA Geforce GTX 650 1GB
Sound Card Onboard Sound
Storage
Hard Drive Intel 520 240GB SATA 6Gb/s 2.5inch SSD
Comments: Primary drive.
Western Digital Caviar Black 1TB SATA 6Gb/s
Comments: Secondary drive.
CD / DVD Asus 12x Blu-ray Burner SATA (black)
Removable Drive ATech PRO-57U USB 3.0 Internal Card Reader
Case / Cooling
Case Fractal Design Define R4 Titanium Grey
Power Supply Antec TruePower New Series 650W Power Supply
CPU Cooling Cooler Master Hyper TX3 CPU Cooler
Software
OS Windows 7 Ultimate 64-bit OEM SP1
Software: Multimedia Cyberlink PowerDVD 10 OEM
Accessories
Services Warranty: Lifetime Labor and Tech Support, 1 Year Parts
Software / Preferences
Software: Courtesy Install Microsoft Security Essentials (Antivirus)"
Keith Melkild [Send Email]
Rating: 10/10 Date: 01/19/13
---
"I came to these guys with special needs for a special system. After 3 short days of work they were done. I couldn't be more pleased then I am with this system. From start to finish this company went far and beyond my expectations. The quality of the build is top notch and the customer service was excellent. It was nothing short of a 10 out of 10 experience. Most of you know thats hard to come by these days when purchasing anything. These guys have my business for life."
Ryan Cates
Rating: 10/10 Date: 01/10/13
---
"I am SO impressed with Puget Systems, from the quality of their website, to their personal review of my submitted order, to the speed of the build, to the online details of the process of building, testing and then shipping the product. The 3-ring binder with software CDs, instructions, specifications, thermal pics, etc. was most professional.

I needed a business server. I didn't have time to evaluate all the possible configurations, so I told them what I thought I wanted, they suggested a couple of changes (that saved me almost $500!) and then delivered a fantastic product. My local IT company came to migrate the old server over to the new, and commented "Oh, they already did all of the initial setup." They were able to jump right in to the serious work, saving me hundreds of dollars of their time.

I'm sure that a good technical person could do for themselves what Puget did for me less expensively. But as a business owner, I didn't want to have to spend my valuable time mucking about with a balky computer. That is not my forte. I wanted instant perfect results. And that is what I got.

I'm going to be in the market for a new workstation soon, and I know where I'll be buying it - Puget Systems!"
Eric Roberts [Send Email]
Rating: 10/10 Date: 09/25/12
---
Read all
customer testimonials.